"Telephone, washing machine, satellite TV, two bedrooms and salon." Ahmad translates what the two slick young agents explain about the flat we are going to see. Rents of between 400 and 500 Dollars are discussed, far more than we are prepared to spend, but this is the best that Ahmad could find so far. He works in a real estate office in the modern part of Damascus.
At the real estate agency
We had spent one hour asking around for a real estate agency until someone showed us into a dimly lit office. A few middle aged men were hanging around, smoking and talking. One of them, wearing a woollen cap and a leather jacket, was apparently the boss. "I wants house?" we ask hesitantly in Arabic. "Lâ mushkilla, no problem" he assures and waves us towards a black leather sofa. "Aleppo? Hama? Homs? Damascus?" Yet when he continued to make driving wheel gestures we figured that this was a car rental office or perhaps something entirely different. So after about 20 minutes of fruitless "conversation" we thanked politely and left. To our relief, we met Ahmad in another real estate office, just a few meters down the road. "Of course," he answered our question whether he spoke English.
The flat is in the central part of Damascus, 4 floors up in a dark and grimy staircase. Two teenage boys show us – Ahmad, the two local agents, and the two prospective tenants – around the flat. The first room is cramped with an iron bedstead, two 1960s sofa beds, and a huge refrigerator. By contrast, the furniture of the salon consists only of a green carpet, about twelve chairs upholstered in cheap green chintz and lined along the wall, and a cabinet with the TV. Satellite, of course. A huge double bed with a pink bedspread completely fills the remaining room. The kitchen – with a gas oven and dishwasher – is encrusted in soot and dirt, and one disgusted glimpse into the bathroom is enough for us.
Dark lodgins
In the past few days we have seen several similar dark and dirty lodgings. At the moment flats are difficult to come by in Damascus as an estimated three million refugees from Iraq have streamed into Syria. Half of them stay in Damascus, willing to share a flat like this among several families. While Ahmad promises to keep his eyes open for us, we leave in a hurry to be in time for our meeting with Ghazwan, a private Arabic teacher. "If you want to study with me, you have to stay in Southern Damascus, near my house," he insists. A few phone calls and ten minutes later we have an appointment to see another flat the next morning.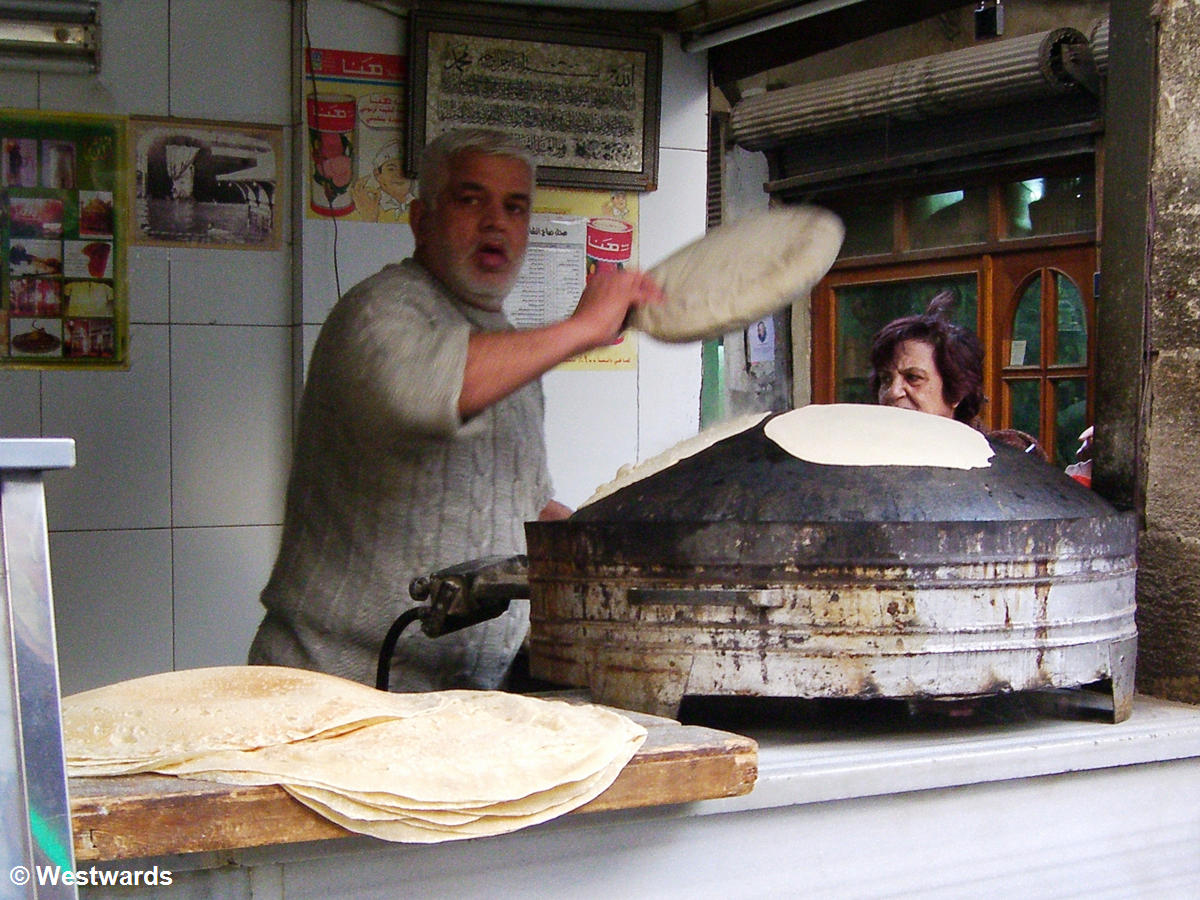 Finally a flat in Damascus!
Although it is in the basement and rather dark, it is better than we had come to expect. "We will clean up and fix everything," the landlord Fîraz promises. The rent seems to be fair enough and we like the neighbourhood, so we decide to move in.
Now, one week later, the oil stove is still not fixed, but we have nonetheless settled into some of our too-many rooms (two bedrooms, salon, dining room, kitchen and bathroom, front- and backyard). Around us, the festivities for the big Islamic holiday of Eid al-Adha – that included slaughtering lots of sheep and eating mountains of sweets – are ebbing away, so there is hope for a repair of the stove. Our Arabic lessons with Ghazwan are progressing, and we enjoy cooking vegetarian dinners and making delicious Arabian coffee with cardamom.