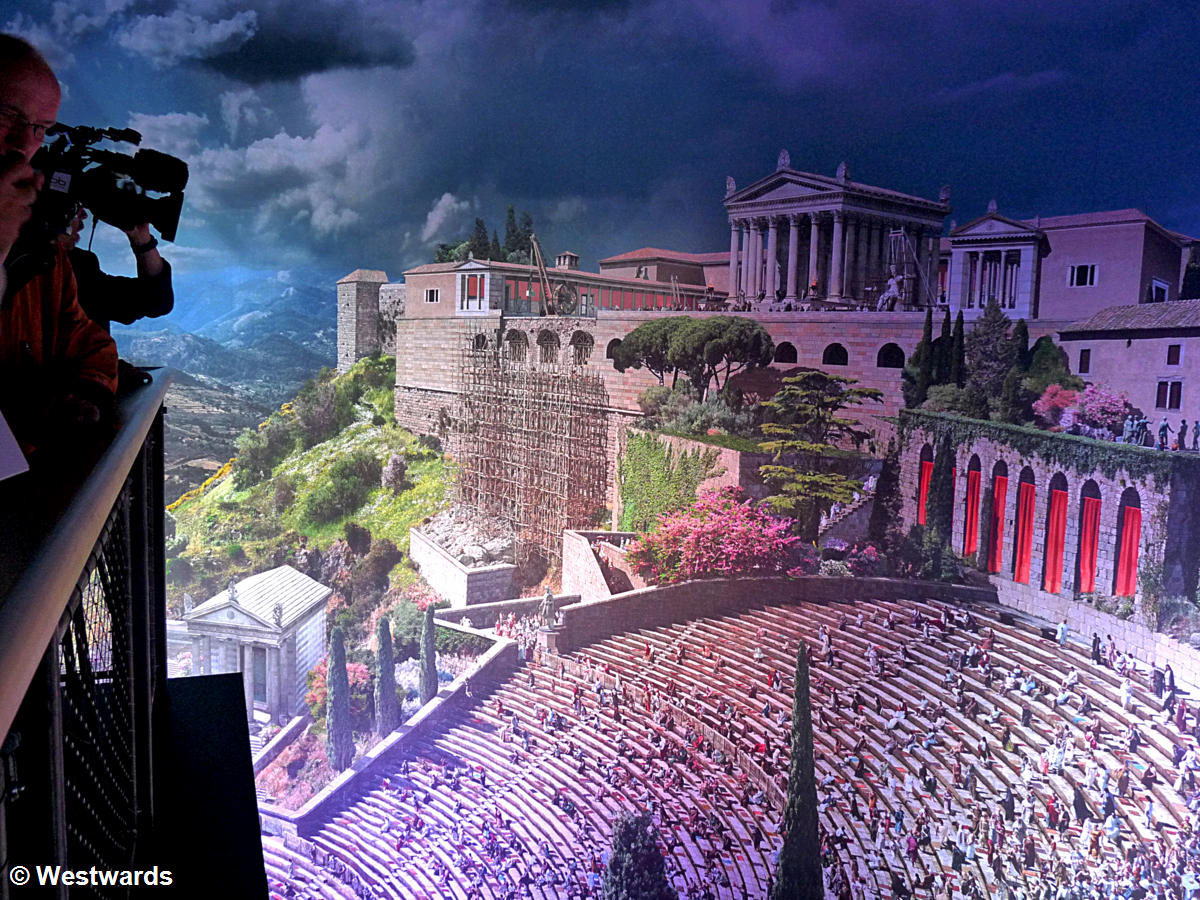 In Berlin's Pergamon Panorama, the ancient city of Pergamon has come alive.
It is a pleasant day in the city of Pergamon. Hundreds of people clog the streets for religious festivities or linger around the theatre trying to catch a glimpse of Emperor Hadrian visiting town. Clearly, Pergamon is a prosperous town, there seem to be no ruins around. Even the colourful frieze of Gods and Giants around the Great Altar is complete.
Pergamon in Berlin!
In the middle of all this, several dozen journalists from the 21st century are gaping at the panorama. They stand on the 15 m high platform of a flimsy metal guard tower that shakes whenever someone comes up the narrow stairs.
The whole town and its bustling life consist of 2500 m2 of printed polyester panels hanging in a purpose-built rotunda in front of the Pergamon Museum.
In contrast to the grand panoramas popular around 1900, such as the Crucifixion Panorama in Altötting or the impressive Racławice Panorama now hanging in Wrocław, this one is not going to be a permanent installation. It will only accompany the Pergamon exhibition in the Museum itself. This again will be open for one year. And yet its creator, Yadegar Asisi, spent several years working on it.
Berlin's Pergamon Panorama may not be hand-painted like the older panoramas, except for the glow-in-the-dark parts. Nevetheless, since archaeologists had a say in every last detail of the crowded scene, a lot of research went into the computerised reconstruction of the setting.
The Pergamon exhibition in Berlin
The exhibition beyond shows hundreds of finds from the antique city. Many of them are on display for the first time, plus some replicas of major statues found in Pergamon. As scheduled now, the Pergamon exhibition and the Pergamon Panorama are open from 30 September 2011 until 30 September 2012. They are both in the Berlin Pergamon Museum on Berlin's Museum Island.