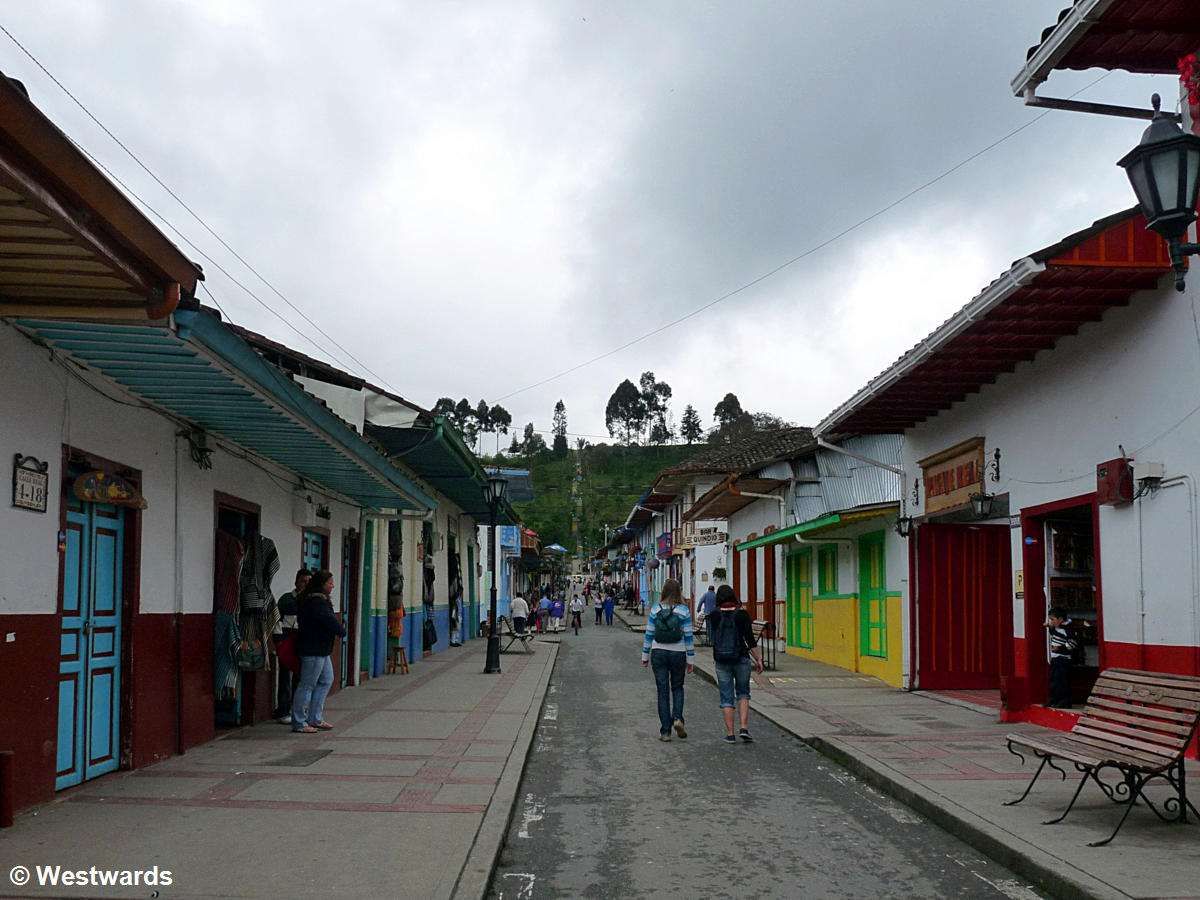 From the cute little town of Salento in Colombia we walk to the coffee plantation of Don Elias for another coffe tour in the Zona Cafetera. The Zona Cafetera, also known as the Coffe triangle, is a region famous for growing and producing the majority of Colombian coffee.
Since 2011, the Zona Cafetera has UNESCO World Heritage status.
Don Elias, the coffee farmer
With his white moustache and wide-brimmed hat, Don Elias looks like the cliché South American coffee farmer. He is not originally from the Zona Cafetera, but from a coffee area in the Cauca Valley near Cali. This plot of only four hectares in a deep ravine near the tourist town of Salento he bought about 7 years ago. Besides coffee plants he also has banana and plantain trees. In contrast to the large-scale and meticulously coordinated procedures on the Hacienda Venecia and other large coffee farms we have visited, Don Elias does everything by hand.
For the peeling of the beans he uses a kind of hand-mill, then he dries the beans with solar power ­– on the floor of a vinyl-covered greenhouse. The dry green beans that he does not need for himself, Don Elias sells to the coffee cooperative. The roasting of the remainder is done on an open fire stove in a pan.
Everything is done by hand
We pick some ripe coffee beans together with Don Elias and try out the peeling mill and the grinding mill. And of course at the end of the tour a cup of coffee is waiting for us. No fancy electric Espresso machine this time – Don Elias brews his coffee in a cotton coffee sock, as do most people in Colombia.
Information
The tour at the coffe farm of Don Elias is conducted in Spanish, but Don Elias speaks slowly and is used to explaining the procedures to foreigners who speak only little Spanish. Another fantastic day trip from Salento is the nearby Valle de Cocora (we had foggy weather though).
We did another coffee tour in the Zona Cafetera. You might also like to read our blog post "In the coffee fields of the Zona Cafetera"
Note: Our trip to Colombia and the Zona Cafetera was not sponsored in any way, all expenses were paid by ourselves.