The rather short and sturdy stone figure in San Agustin is painted red and black. Perhaps he is wearing a mask, for his face looks extraordinarily furious as he holds a small child and a club in the other hand – the very image of a child-devouring monster out of a picture book. Some of the stone figures of San Agustin look rather grim.
The San Agustin Archeological Park in Colombia contains a large collection of religious monuments and megalithic sculptures. But whether the statue represents a god or a shaman, a child sacrifice or that of an adult, or something different altogether, nobody knows.
The history of the San Agustin people
Remains of fireplaces indicate that the first people have lived on these mountaintops overlooking the ravines of the Rio Magdalena more than 5000 years ago. About 1000 BC they started to settle down, build villages and make ceramics. But apart from that, little is known about these people living in a harsh landscape cut off from the world. They wouldn't have known that the angry little stream that had carved this deep canyon would travel for another 900 km through the wilderness all the way to the Atlantic coast.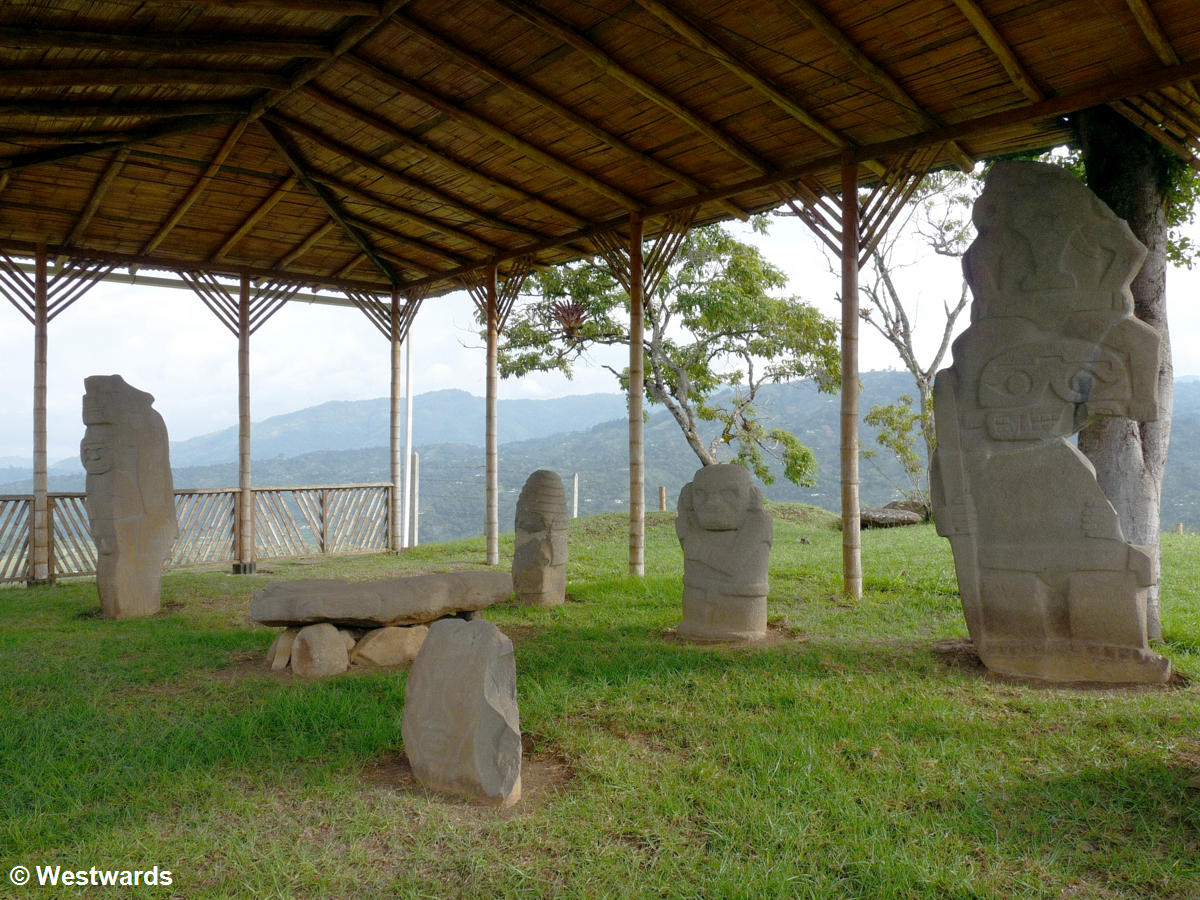 Their culture flourished until around 900 AD, and then at some point before the arrival of the Spanish Conquistadores, it vanished, leaving behind only the huge strange stone monuments we can still see today. When the Spanish arrived, they tried to find out about the origins of these fierce figures, but the local tribes then living in the area didn't know anything about them.
Hundreds of stone figures
The painted figure holding the child stands in a small chamber made from stone slabs, flanked by two stone guardians. Behind it, yet another, larger stone room contains a stone sarcophagus, and the whole structure had been covered by an earthen mound for centuries before being excavated in the 1980s. It was among the last of hundreds of such figures found in the area around San Agustín. The first mounds had already become tourist destinations early in the 20th century, and the area became a UNESCO World Heritage Site in 1995.
How to get to the stone figures of San Agustin
Today the tombs of El Purutal are on the usual tourist circuit, accessible on a horse trip or a half-day hiking course from San Agustín. Simple maps are available from the park office or private guides in San Agustín, and the sites are well sign-posted.