During our research trip for the new edition of our Uzbekistan guidebook we finally found the time to visit the Mizdakh Khan cemetery near Nukus. Mizdakh Khan was once the second largest city in Khorezm and an important center of handicrafts. But in the 13th century Gengis Khan razed the town to the ground. Indeed, he did so with most towns of Central Asia. Even after the destruction people continued to bury their dead in the area. They also built mosques and mausoleums in what became Mizdakh Khan cemetery.
Origins of the Mizdakh Khan cemetery
The large Mizdakh Khan cemetery in the vicinity of Nukus has been in constant use for many centuries, probably from long before the Arab invasion of Central Asia. Indeed, pre-Islamic traditions of grave decoration survive until today.
The ladders you will see in the tombs were originally in use as stretchers to carry the dead to the cemetery. They also symbolize the passage of the dead into heaven.
The Mausoleum of Mazlum Khan Sulu
One of the oldest tombs on the Mizdakh Khan cemetery, that of Mazlum Khan Sulu, dates from the 13th century. It has recently been beautifully restored. The elegant brickwork patterns are combined with occasional turquoise-blue glazed bricks. The decorations relate to Seljuk buildings as far as Anatolia, and to Mongol mausoleums constructed in Iran.
The Mausoleum of Shamun Nabi
The Mausoleum of Shamun Nabi was built in the 13th or 14th century. It has a very unusual architecture with seven domes making up the roof. Even more unusual ist the sarcophagus inside, which is 25 meters long and said to be still growing. Buried here is the miracle-performer and mystic Shamun Nabi. Although when Russian archeologists opened the tomb they did not find any body remains.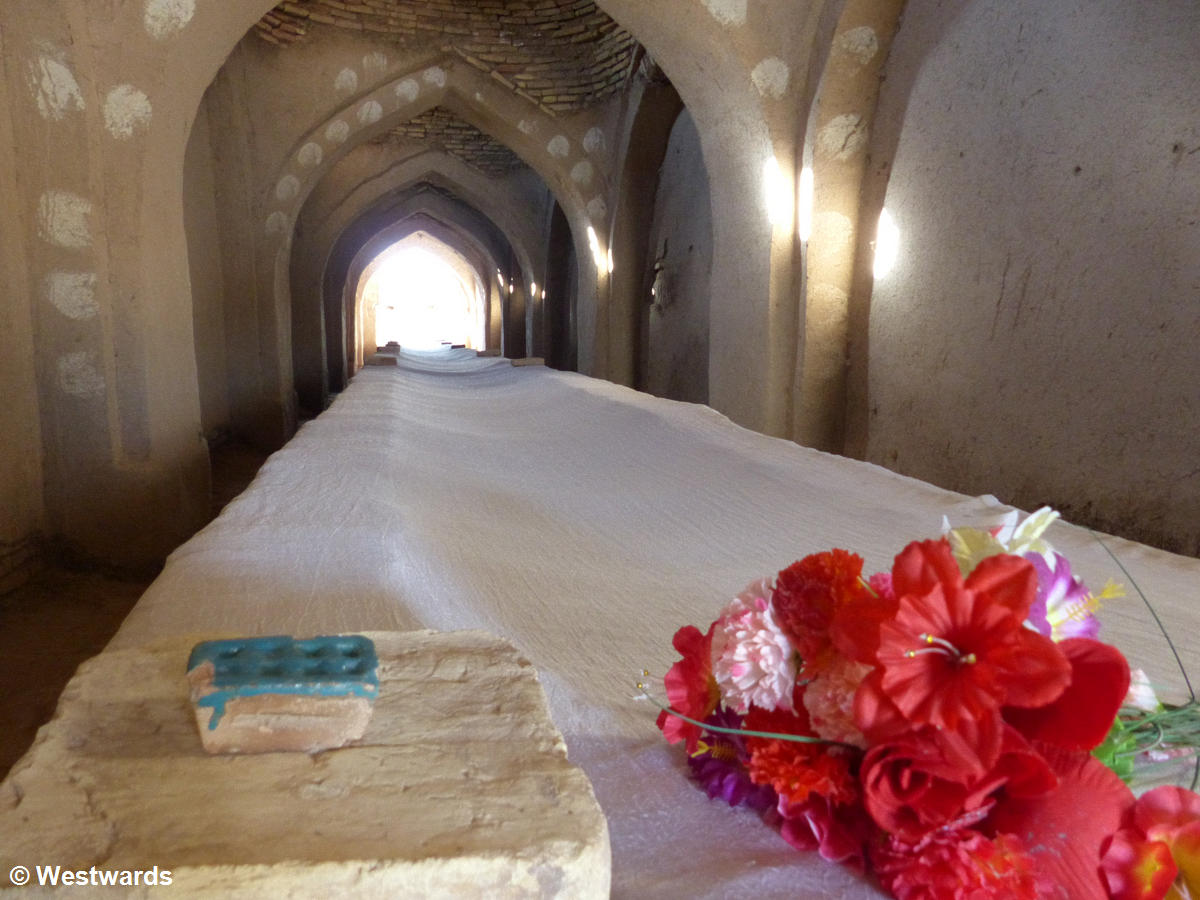 How to visit the Mizdakh Khan cemetery
The cemetery lies in the desert near the village of Khojayli, between Nukus and the Turkmen border. If you go from Nukus, it is best to negotiate a taxi with waiting time at the cemetery. If you go on to Turkmenistan do not forget to stop at the Turabeg Khanum mausoleum in Kunya Urgench. It has one of the most beautiful domes we have seen! Nukus is the largest city in the North of Uzbekistan. It is famous for its art museum, but also the starting point for trips to the disappearing Aral Sea.
NB: This travel blog article about Mizdakh Khan was not sponsored. We paid all expenses ourselves.
Never miss a new post! Get notifications about new posts straight into your inbox!