The long-distance trail Cami de Cavalls is about 180 km long and leads around the perimeter of Menorca: mostly along the coast, with regular ups and downs but no longer ascents. We walked at the end of November / beginning of December and divided the trail into 8 stages of up to about 30 km plus a rest day in the middle of the trip. Due to bad weather conditions we had to cancel day 6 and skip part of the last day. In total, we walked 160 km on the Cami de Cavalls, with a cumulated ascent of 4000 m. This is a practical account of our hiking schedule, noting some peculiarities of each stage and the possible water sources along the way.
Day 1: Ciutadella to Cala des Talaier, 23 km, 250 m total ascent
We arrived around 11 am with the ferry from Majorca and started hiking right away. After a few semi-inhabited suburbs of Ciutadella (no shops, though) the path followed beautiful low cliffs. Well-signed, but quite muddy at times. A bar may have been open in Cala en Bosch (it looked closed and empty but had a sign "open"), but certainly no shop. We met less than 10 people during the day. The only water source was a beach shower in Son Xoriguer.
Day 2: Cala des Talaier to Cala Llucalar, 30 km, 850 m total ascent
Mostly on a coast path with stunning, beautiful bays, cliffs and beaches. A shorter stretch inland was somewhat less exciting. We found an open bar in Cala Galdana, but then no other public water source. Most of the villages (Sant Tomas, Son Bou etc) were completely deserted. We stayed at the beach in Cala Llucalar with very uncomfortable ground and storm. On the next morning, we discovered a concrete shelter with unlocked door in the rocks at Cala Llucalar, obviously used by local climbers.
Day 3: Cala Llucalar to Punta Prima, 29 km, 660 m total ascent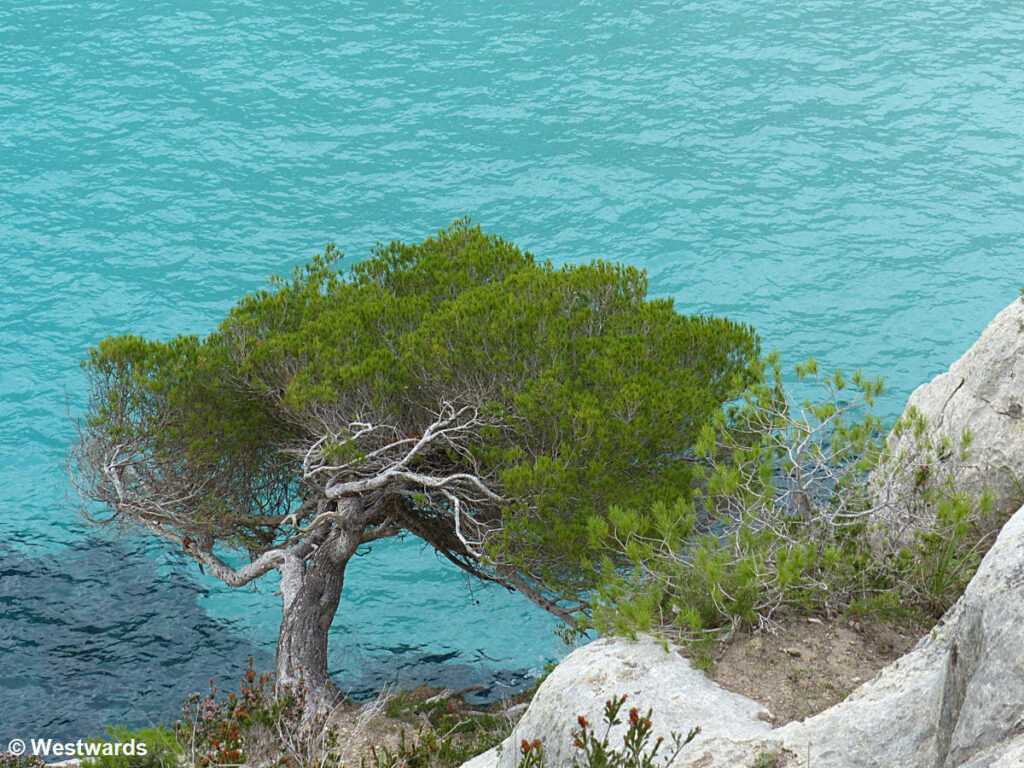 One of the less beautiful stretches of the trail: After the first kilometer or so which leads through rather impressive, almost mountainous surroundings, we walked inland over dirt tracks and some country lanes including 2 km on a tarmac road with mild traffic. In Cala en Porter, there were several permanent inhabitants as well as an open shop and 3 bars. Otherwise, all the villages along the coast were abandoned holiday villages, some pleasant to look at, others less so, but all appearing like ghost towns. In Son Ganxo, but off the coast and off the hiking trail, there was a bar open.
Day 4: Punta Prima to Maó, 12 km, 230 m total ascent.
A very pleasant stretch of coast behind Punta Prima and then some back-country lanes that were surprisingly rural considering that this is the most inhabited part of the island and the hinterland of Menorca's administrative capital, Maó. Only the last kilometres from Es Castells were on the regular road.
Rest Day
In Maó, we had a rest day for sightseeing and stocking up provisions. Read about our visit to the prehistoric Talaiot sites near Mao.
Day 5: Maó to Favaritx, 27 km, 820 m total ascent
Access to the coast at Sa Mesquida was 5 km on a boring but not exactly frequented road; from there on a stunning path on a very beautiful coast, interrupted only by some trails in the interior in the National Park of Es Grau (which was nice enough, but we liked the coast better). Very dramatic coastline around Cape Favaritx. The bar in Sa Mesquida may have been open, and so was one of the bars in Es Grau. After that no water source, but the laguna Bassa de Morella (which is reportedly a sweet water pond) would have been accessible from the path by walking through some (protected) dunes.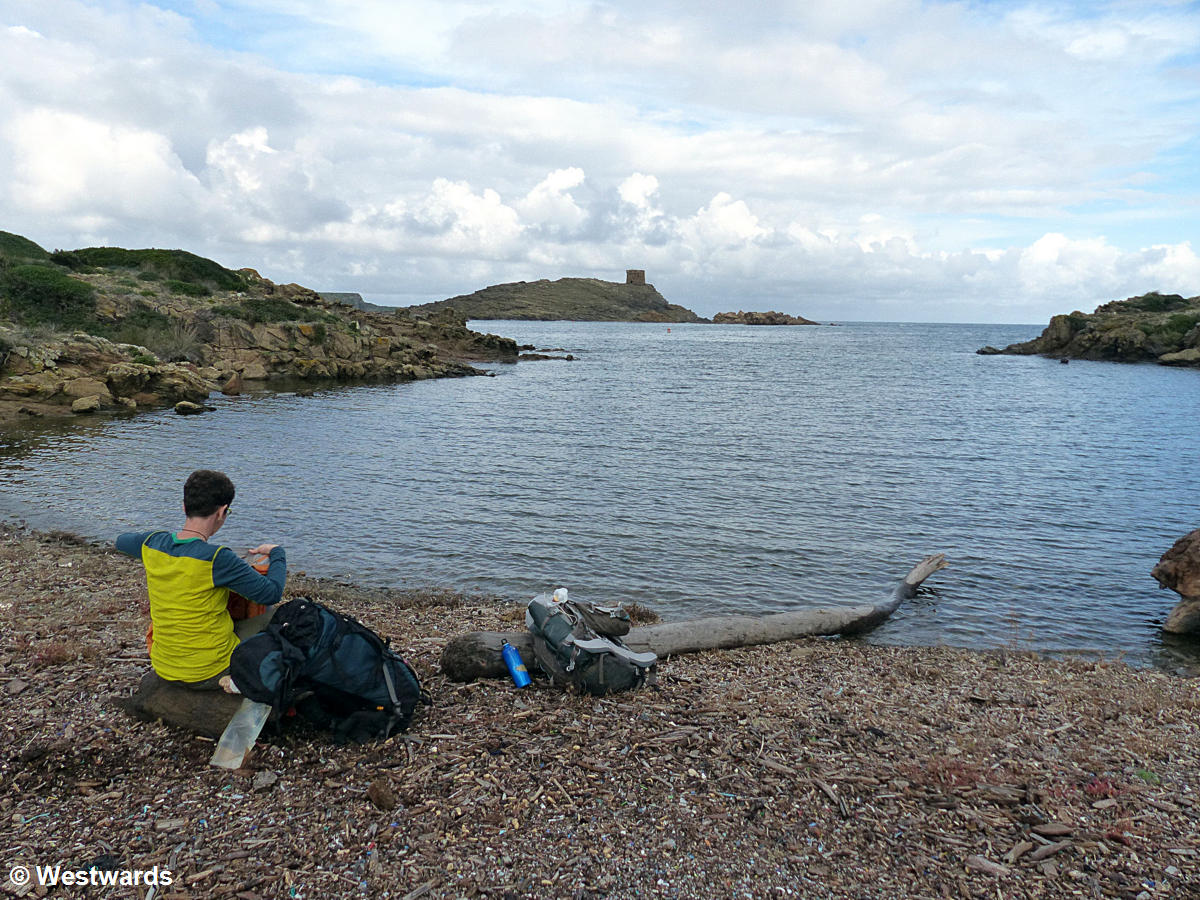 Day 6: cancelled
We had planned to walk from near Port d'Addaya to Cala Binimel-la but were stopped by heavy rainstorms and went back to Mao hitchhiking (no public transport to this part of the island). We returned the next day to restart the route from near Platges Fornells because there is a bus connection to Fornells (that is, the school bus from Fornells) twice a day on weekdays.
Day 7: Platges Fornells to Macar d'Alfurinet, 25 km, 950 m total ascent
Extremely lonely and quite spectacular stage along relatively high cliffs and crossing long beaches. Good views onto outlying rocks and the raging sea. We met only 3 people (and saw 4 more surfers out at sea). Platges Fornells, the last settlement for the next 35 km, was completely deserted, not a single person, dog or car, let alone a water tap. Some swimming pools had water in them, though (we had brought enough water). After that there was no permanent fresh water source, even after the extremely heavy rainfalls we encountered only two or three rivulets with enough flowing water in them to fill a bottle (beware, pastures behind). We refilled our bottle at one of them and used the not very clean water for cooking.
Day 8: Macar d'Alfurinet to Cala Morell, 14 km, 310 m total ascent
Again a nice walk over higher cliffs and with some nice bays, but not as spectacular as the last stretch and somewhat more inland. Cala Morell offers a bit of prehistoric sightseeing (burial caves) but is another one of those abandoned villages without any water source. We had to stop here because we were behind schedule and wouldn't have made the final 20 km that day (which also saved us from another thunderstorm) and hitchhiked to Ciutadella.
Accomodation and provision on the Cami de Cavalls
We took a tent and provisions because off-season almost all the hotels along the way are closed and we didn't want to pay for taxi transfers to and from the trail heads. Off season most shops and restaurants/ bars are also closed and it was especially difficult to get water.
NB: Wild camping is prohibited on Menorca. In summer there are two official campsites on the island, both in the south. As it was off-season with sometimes bad weather, it got dark around 6 pm and we only bivouacked (pitched the tent in the evening and left in the morning) we did not encounter any problems. Suitable spots are easy to find in most places. Despite the difficulties with water, food and weather it was a great trek, we liked it even more than the GR 221 on Mallorca. Locals recommended May and October as the best hiking season.
Guide Book for the Cami de Cavalls trail
We used: Menorca: Camí de Cavalls, Conrad Stein Verlag 2013, by Idhuna Barelds, Wolfgang Barelds (in German, with GPS data)
See also our other posts on hiking the Cami de Cavalls trail
The Cami de Cavalls on Menorca – going hungry on the tourist beaches
Menorca's wild north – Hiking on the Cami de Cavalls along the Northern coast
NB: We were not sponsored for this travel blog post about the Cami de Cavalls trail on Menorca. We paid all expenses ourselves.
Never miss a new post! Get notifications about new posts straight into your inbox!