It is a busy afternoon at the Sri Dalada Maligawa, the major sanctuary in Sri Lanka's former royal town of Kandy. Many of the visitors are clad in white, the colour of pilgrims, and everyone had to remove their shoes before entering the inner temple area of the Buddhist sanctuary of the Sacred Tooth (of Buddha).
In the outer precinct near the sacred Bodhi Tree we pass a box set up there to discard Buddha statues and images, such as those you put in your car or on the house altar and that you replace or otherwise no longer need (which makes us wonder if Christian churches also have those boxes for old crucifixes and such?).
A pudgy man is walking up the temple stairs towards the reliquary carrying a 500g box of margarine. In fact visitors and pilgrims can't even see the reliquary but only the door behind which it is kept. In front of the door there is a long table for the offerings of flowers, and the man proceeds to open his margarine box in which he has brought flowers from his own garden instead of buying them outside the temple. We quite often see people bringing their own flowers as an offering to the Buddha – maybe it brings more merit than just buying them at the specialised stalls in front of the temple?
The Botanical Garden
Flowers are also the mainstay of the Botanic Garden at Peredeniya near Kandy, where British Botanists first experimented with indigenous and imported plants looking for agricultural uses. Tea was one of the imported species and eventually turned out a great success. The over-detailed leaflet exhaustively lists all the botanists who have ever worked near the garden, but has very little substantial information on the plants itself. But nevertheless the garden is a pleasant spread-out park with an orchid house, avenues of different palm trees, a medicinal plant garden and a long row of lopsided Cook's Pines – which are populated with thousands of large fruit bats hanging upside down from the branches and flapping their wings because of the heat.
Wildlife in town
Wildlife is omnipresent in Sri Lanka, and we are not talking about National Parks yet: In the lake in the centre of Kandy Town, large monitor lizards are bathing. In a week of (cultural) sightseeing, we have seen deer, water-buffaloes, egrets, ibises, lizards, as well as geckos, monkeys, peacocks, snakes (only from the bus window) and in the trees, bee-eaters and kingfishers.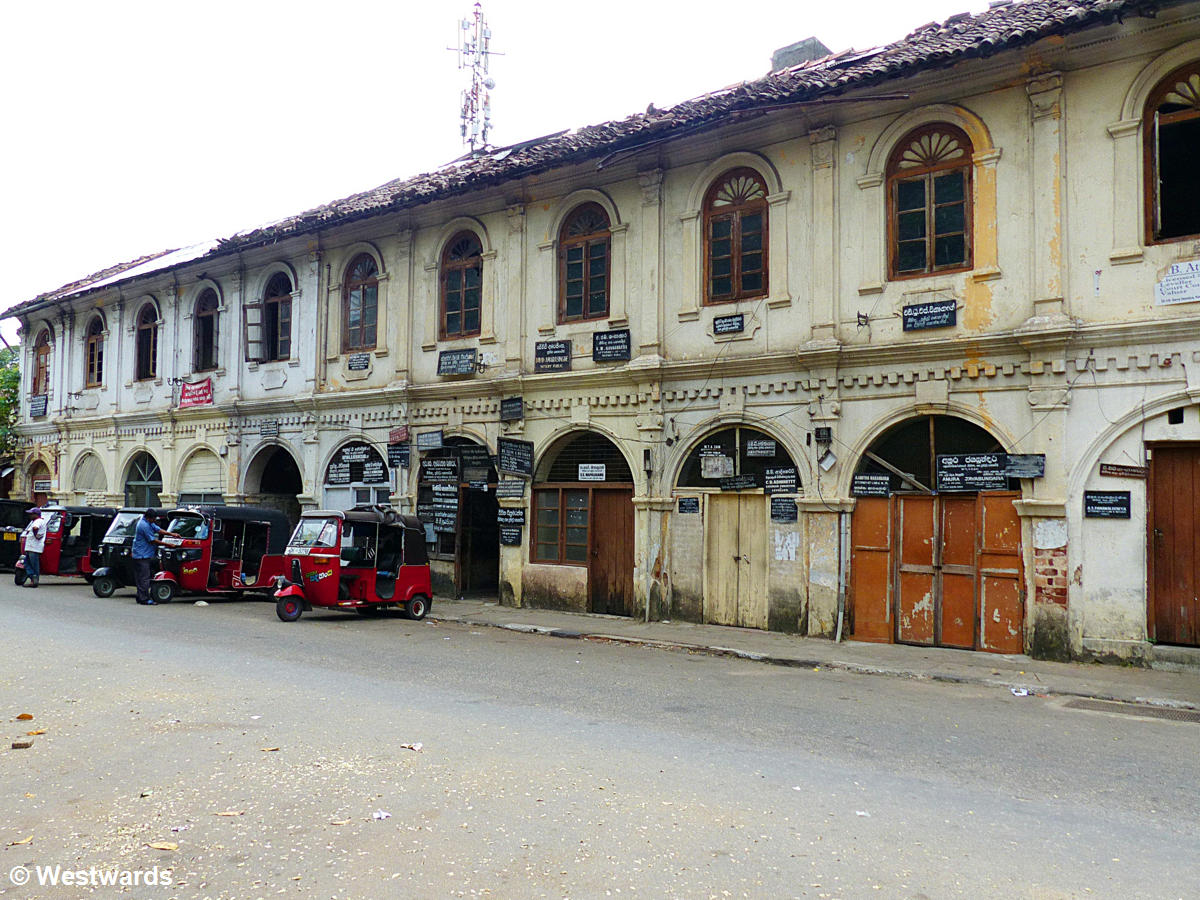 Kandy was the last capital of the Sinhala kings before the British took over. It became a UNESCO World Heritage site in 1988 and many fine colonial buildings are dotted throughout the town. Also belonging to the UNESCO Heritage are some mixed Buddhist and Hindu temples in the surrounding countryside, of which we visited some in a day trip by public transport and some walking.
+++The trip was organized by ourselves and we did not receive any funding or sponsoring for it.+++