"The trail is not easy: After passing ladders and iron clamps, you finally have to draw yourself up a rock face to stand upon a narrow ridge". That's anyway what Natascha remembers having read about the "Klamml Steig" (ravine track) in the Eagle Trail booklet detailing our trekking tour through the Kaiser Mountains. Being in the mountains for three days, we do have some luggage and it is quite foggy today – so she's nervous hiking the Eagle trail.
There are stairs and rocks and also a few iron clamps and occasionally the path is quite steep. Only when we climb some particularly high rock steps, and stand on a small trail with meadows falling off to the side, we realize that this must already have been the difficult part! From here we can see the Grutten Hut, from where a broad path leads further around the mountain.
The wild emperor?
The "Wilde Kaiser" Mountain (lit. "wilde emperor mountain") doesn't relate to one of those Habsburg emperors of which the Austrians – and the Tyroleans for that matter – had quite a few.
The term rather denotes a mountain massif between Kufstein and Kitzbühel, somewhat removed from the main Alpine ridges. Its highest peak is Ellmauer Halt, at 2344 m not particularly high for this area. Nevertheless, the rocky peaks are impressive as they form a band of almost pathless spikes, where the only way to cross the mountain ridge is on a via ferrata.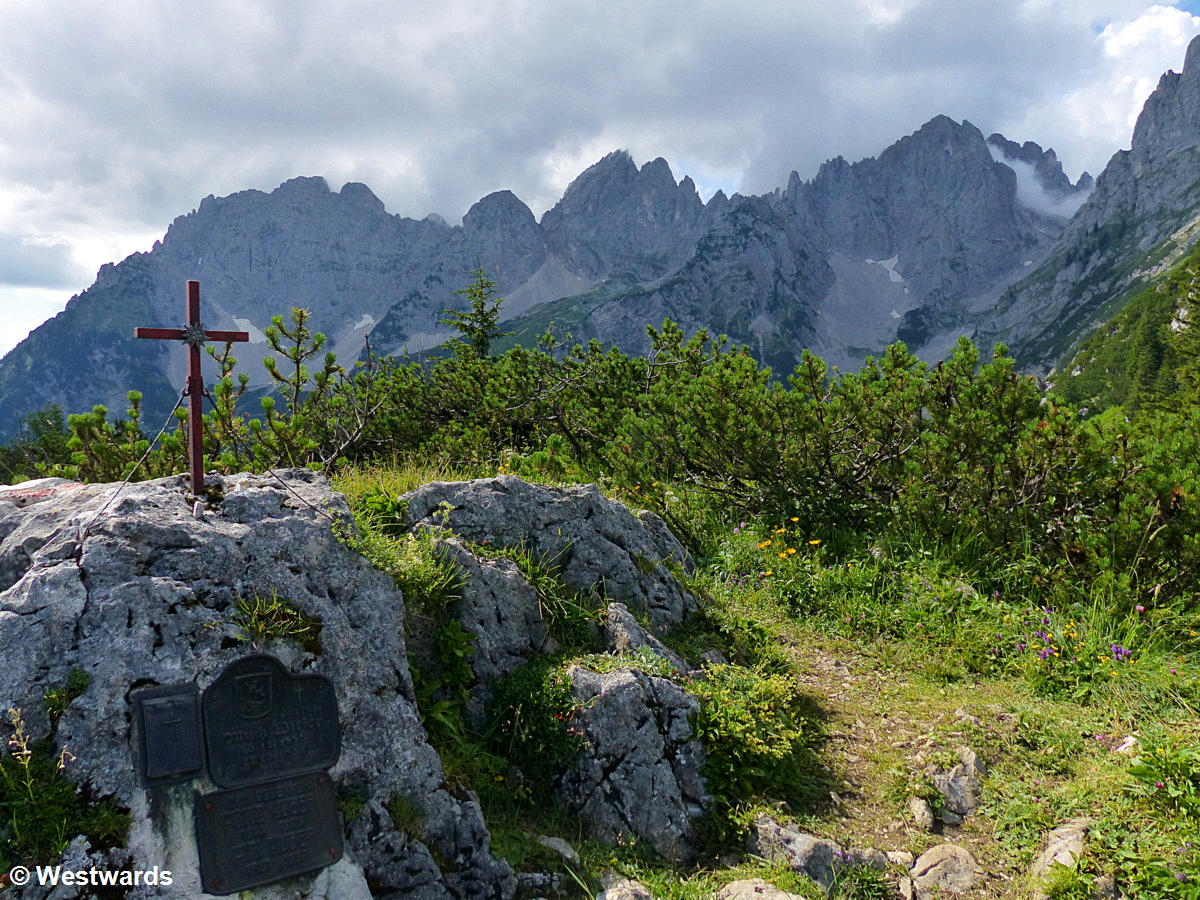 The Eagle Trail
The Tyrolean Adlerweg (Eagle Trail) is a long-distance trail covering the whole of Tyrol, forming the shape of an eagle on the map. It leads through some of the most spectacular mountain areas of the Alpine region, but always stays on trails that can be walked (rather than climbed). Thus, our route leads not over the Kaiser Mountains, but around them, always just below the rocky walls.
We pass mountain pastures and alpine huts serving freshly made cheese and milk, a beautiful clear lake, and finally on the third day float down into the little town of Kufstein in a cute old-fashioned chairlift, the Kaiserlift. And we are planning to come back for more next year!
Altogether we hiked from St Johann to Kufstein in three days, but you could walk on for another 30 etappes, thus covering some of the best mountain areas in Tyrol.
Day 1: St. Johann – Gaudeamus Hut, 17 km, 1000 m up.
Day 2: Gaudeamus Hut – Lake Hintersteiner, 14 km, 700 m up, 1000m down. We stayed in an Inn in the nearby village of Scheffau; there is a gratis Shuttle to / from the Lake.
Day 3: Lake Hintersteiner – Kaiserlift (chairlift), 13 km, 900 m up. We arrived at the chairlift around 1 pm.
You can contact us for GPS tracks (obviously only for the first three days).
Have you been on the Eagle Trail or got interested in hiking it?