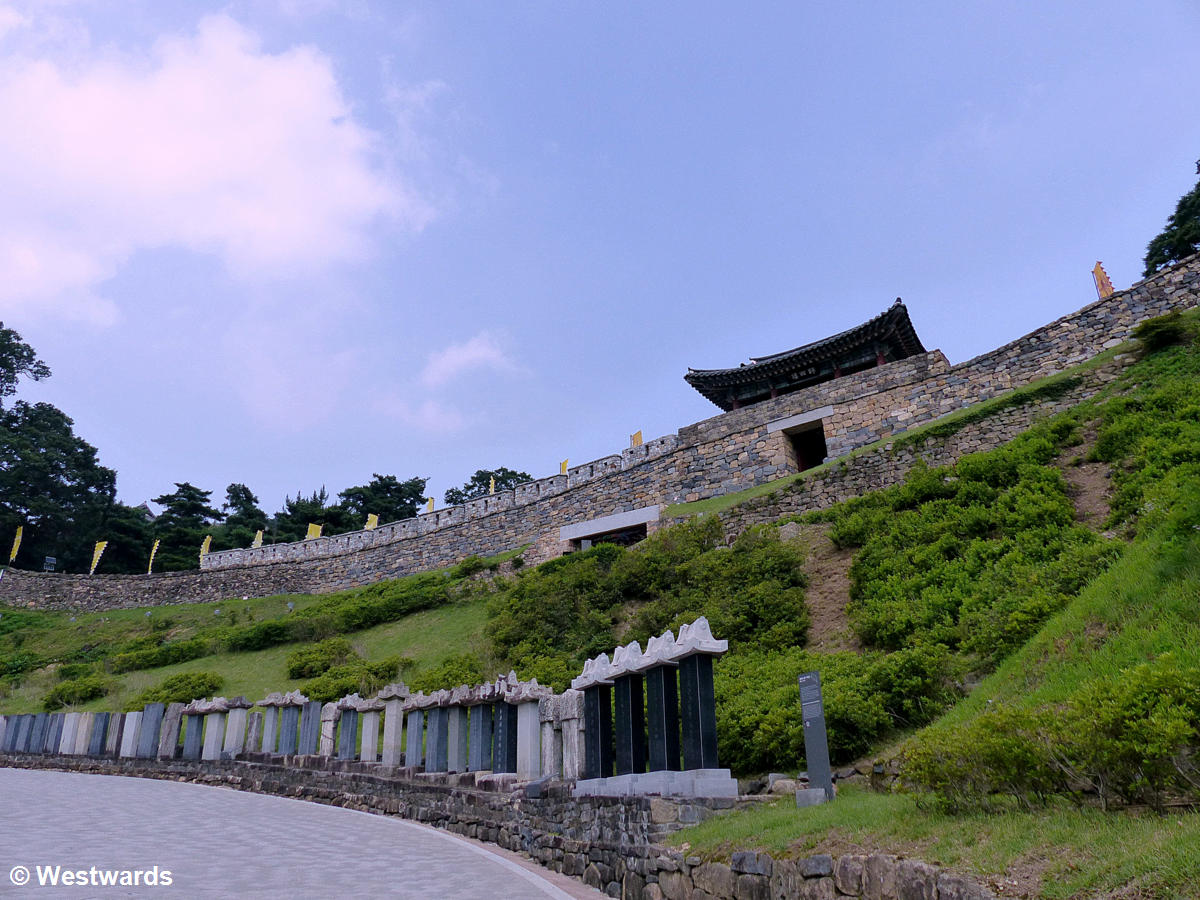 Broad visitor pathways lead up to the reconstructed entrance gate of Gongsanseong fortress in Gongju, South Korea. The path then goes up and down in steep delightful curves over the hills that make up the ancient fortress. In its heyday in the 5th and 6th century AD, Gongsanseong Fortress was the seat of power of the Baekje (Paekche) government, one of the big early Korean states. The Baekje UNESCO sites of Buyeo and Gongju joined the UNESCO World Heritage site list in 2015.
On a hot and humid summer day, we are glad that we have brought folding fans for this visit of the Baekje UNESCO sites. And in spite of the summer heat, we are keen to explore the Baekje remains. After all, many of the cultural, technological and artistic influences in early Japanese history travelled from (or via) Baekje: So it feels like seeking out the roots of our second home, Japan.
Traditional Korean style on a steep fortress hill
The site is huge, and we spend most of our sightseeing day walking (and sweating) – not least because there isn't really much to see. Behind the reconstructed entrance gate, there are a couple of other brightly coloured gates and pavilions in that all-purpose historicising Korean style. We have seen similar ones all over South Korea. Apart from a few excavated stone foundations and a round stone-clad hole (a firefighting water pool? a reservoir? …we wonder), all the structures are recently rebuilt. Or rather, they are newly built at sites where some people think there may have been a Baekje-era structure. Since archaeologists know almost nothing about the life in the Baekje era, or the period's architecture, the new buildings seem to be mostly based on much later historical examples from the Joseon period (14th century onwards), perhaps with some earlier details thrown in.
UNESCO sites of Buyeo
The next day, we explore the nearby town of Buyeo, another capital city of the Baekje state during the 6th century, with a similarly wide-spread fortress on a local hill. There are almost no original structures, but the area is dotted with reconstructed gates and pavilions. In the town below, a stone pagoda is all that remains from the early Buddhist Jeongnimsa Temple. The small tower is a rather interesting structure as it is apparently mimicking a wooden pagoda of that period. At least, that's what archaeologists think – none of the wooden structures of the time have survived the centuries.
On our way to the royal tombs of Neungsan-ri somewhat on the outskirts of town, we try to locate the old city wall indicated on the tourist map, but to no avail. Only at the Neungsan-ri archaeological site do we realise that the wall is only being (re)-built now. Next to the curious round burial mounds (which look like those of the Silla dynasty in Gyeongju), construction machines are at work to pile up a clearly visible stone wall including a visitor path next to it. Looking further up the hill we guess that there may indeed have been a mud rampart previously. In our opinion, the new building measures are destroying historic evidence rather than conserving it.
This seems true for practically all of the designated Baekje tourist sites. Indeed we wonder how all these recently built structures could attain their prestigious UNESCO World Heritage status. Is it enough to build Disney-style, invented history as long as it is situated at a geographic location that is known to have been a historic site?
Baekje history in the National Museum in Gongju
The only sightseeing spot in the Baekje area that we can agree is of historical importance, is the National Museum in Gongju. With its considerable collection of Baekje-period artefacts it was quite stunning. They included some items found in the royal tombs of Baekje. Most notable are the golden crowns in a very peculiar style. But there were also Buddhist statues, tomb guardian animals, and some historical everyday objects. We do appreciate that some of the original finds are on display here at their historical site. Alternatively they could be in the huge (and fantastic) National Museum in Seoul, where they would stand out less. Of course, however, for most visitors it would be much easier to see them in Seoul than coming out to the provinces.
Is it worth visiting the Baekje UNESCO sites in Buyeo and Gongju?
In our humble opinion – not really. While the museum is certainly worth the visit, you can skip the stroll to the actual sites. It was one of our most disappointing visits to a UNESCO site during all our travels.
How to visit the Baekje UNESCO sites in Buyeo and Gongju
Gongju is a small town 120 km south of Seoul, with its own spectacular UNESCO sites. By public bus it is about 1:30 hour, thanks to priority bus lines. Alternatively, there are frequent busses from nearby Daejeon. We based ourselves in Gongju and made a daytrip by local bus to Buyeo, an even smaller town about 30 km away.
+++The Korea trip was completely organized by ourselves. We did not receive any funding or sponsoring for it.+++
Never miss a new post! Get notifications about new posts straight into your inbox!