On a beautiful mid-week day in May, we didn't think we would need a reservation for two people – but at 18.30 it was already difficult to get a seat on the pleasant terrace of the Vietnamese Restaurant Con Tho in Berlin. Half of the tables inside were also already occupied. The vegetarian Vietnamese restaurant seems to be quite popular, and rightly so, it turns out.
The setting is very nice, with both the terrace pleasant enough in spite of the busy road in front (but with a public park on the opposite side) and a stylish modern interior that somehow manages to be also warm and comfy.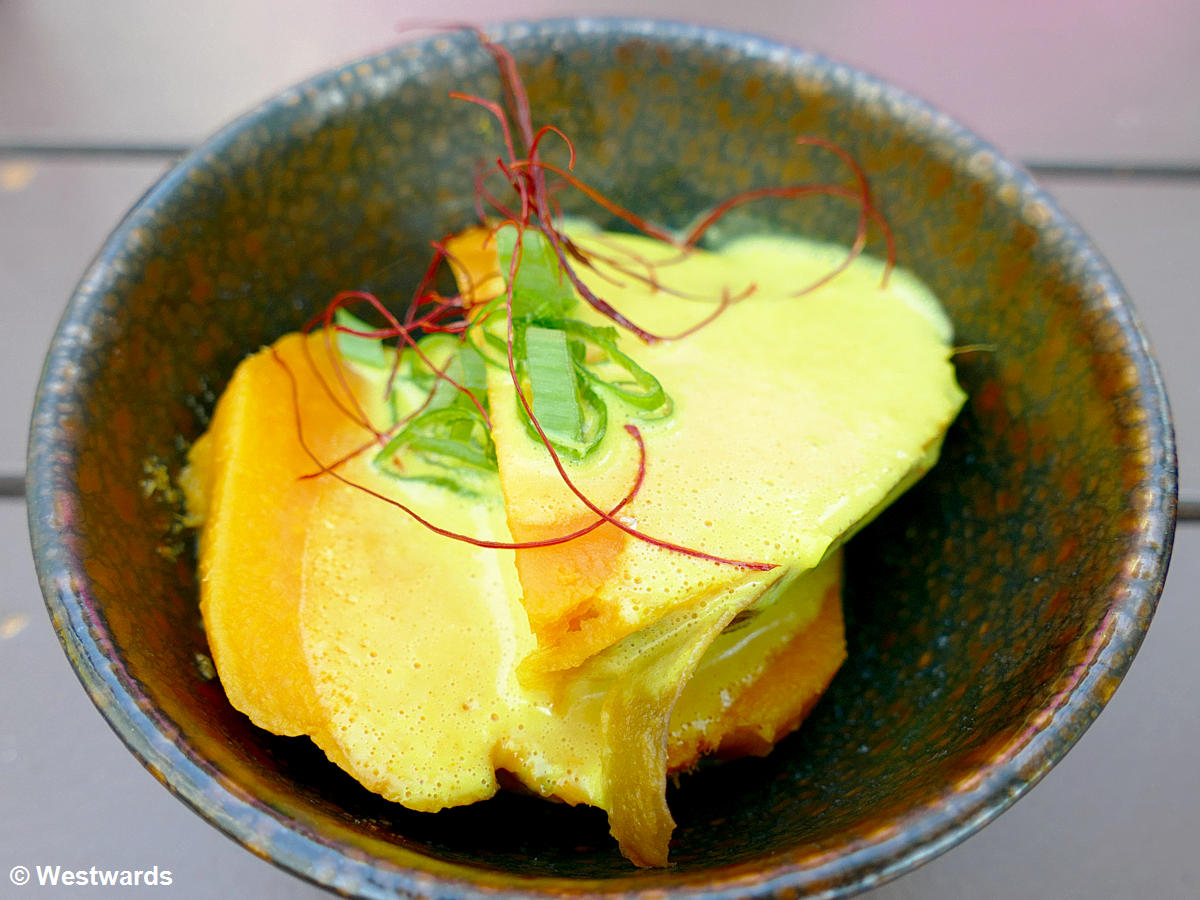 We had a small bowl of "Rabbit's Favourite" to bridge the waiting time – two large slices of sweet potato with a garlic mayonnaise, which was amazingly good and intensified our anticipation. The main dish didn't take very long to arrive anyway.
For main dishes, we tried the "Happy Monk" vegetarian rice bowl with some seitan, marinated tofu, spinach and different vegetables on rice and one of their Banh Xeo (veggie rice flour pancakes). The "Afternoon Break" is a light pink pancake (the colour stems from beetroot) filled with vegetables and a lightly cooked egg. All the Banh Xeo variations are accompanied by summer rolls, or rather the ingredients for summer rolls: rice paper and lots of herbs and salad ingredients, as well as a spicy sour dip. The rice paper was already prepared and moistened and it was quite easy to stuff a roll. All the dishes we had had a distinct taste and were strong on individual herbs and spices rather than MSG.
To accompany the food, we had home-made lemonade, called "Red Lampion", which tasted intensely of cloves and mint (and perhaps of pandan, a herb that was also on the list of ingredients but that we couldn't identify). Hibiscus gave the drink a rich red colour.
We would have liked to try the desserts, but the mains were rather large servings – and also we had to vacate our table for the next guests. But we will come back for sure!
Con Tho Vegetarian Restaurant: Hasenheide 16, 10967 Berlin, Tel. 030 22456122. https://www.facebook.com/pg/ConThoBerlin
Read also the travel blog post about our visit to Chay Village, another vegan/ vegetarian Vietnamese restaurant in Berlin.