In 2001, we travelled to Cambodia to see Angkor Wat, a huge UNESCO World Heritage site. The country was not very developed, and dangerous in some parts. Nevertheless, we decided to travel all through Cambodia instead of reaching Angkor Wat as an excursion from Thailand. This required a lot of boat travel, as many roads were not passable. Otherwise, the only means of transportation was shared-taxis – up to 17 people in an estate car! – or motorbikes for shorter distances.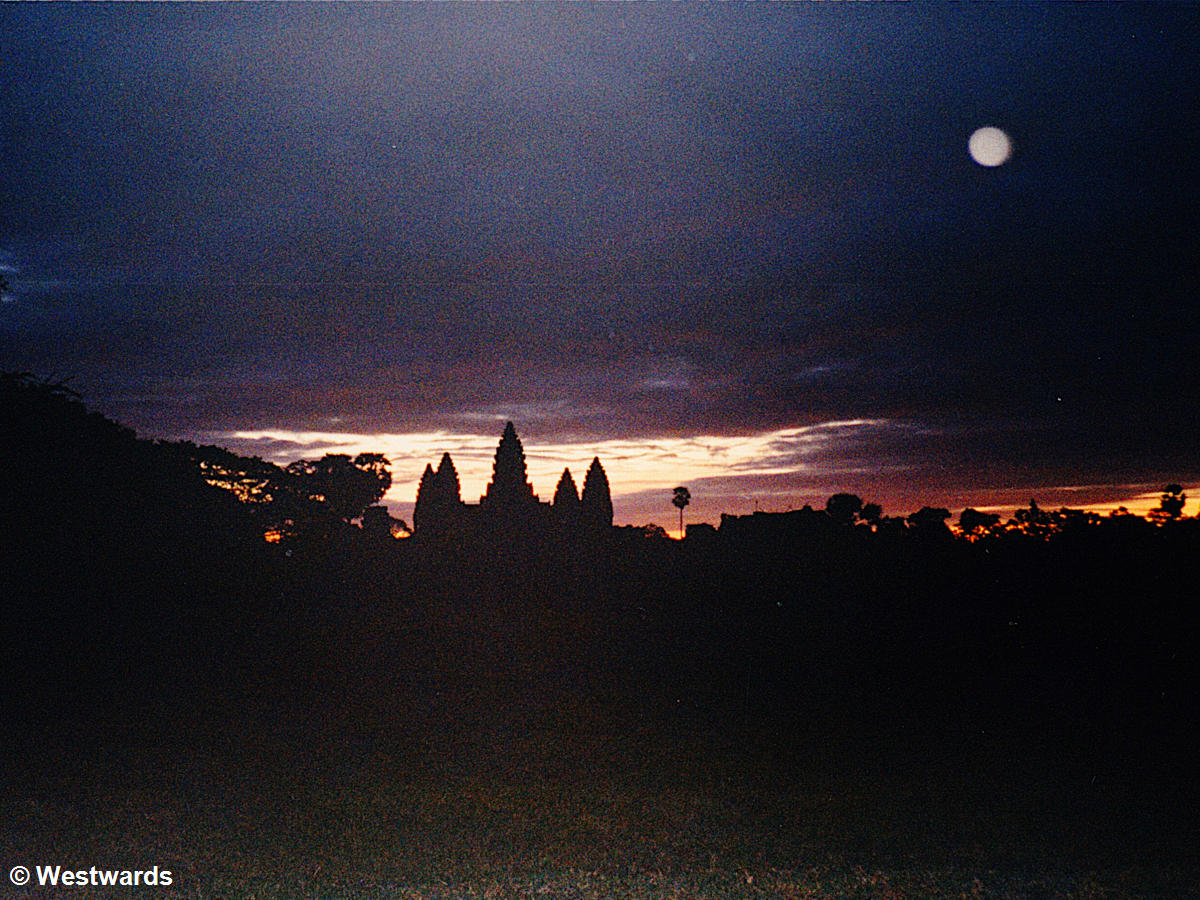 Everybody had implored us to make this our first view of Angkor Wat. Ok, so we had to get up at 4 am for the long ride on the back of a moto taxi through the night (those days without a helmet, of course).
Angkor Wat, Cambodia's travel highlight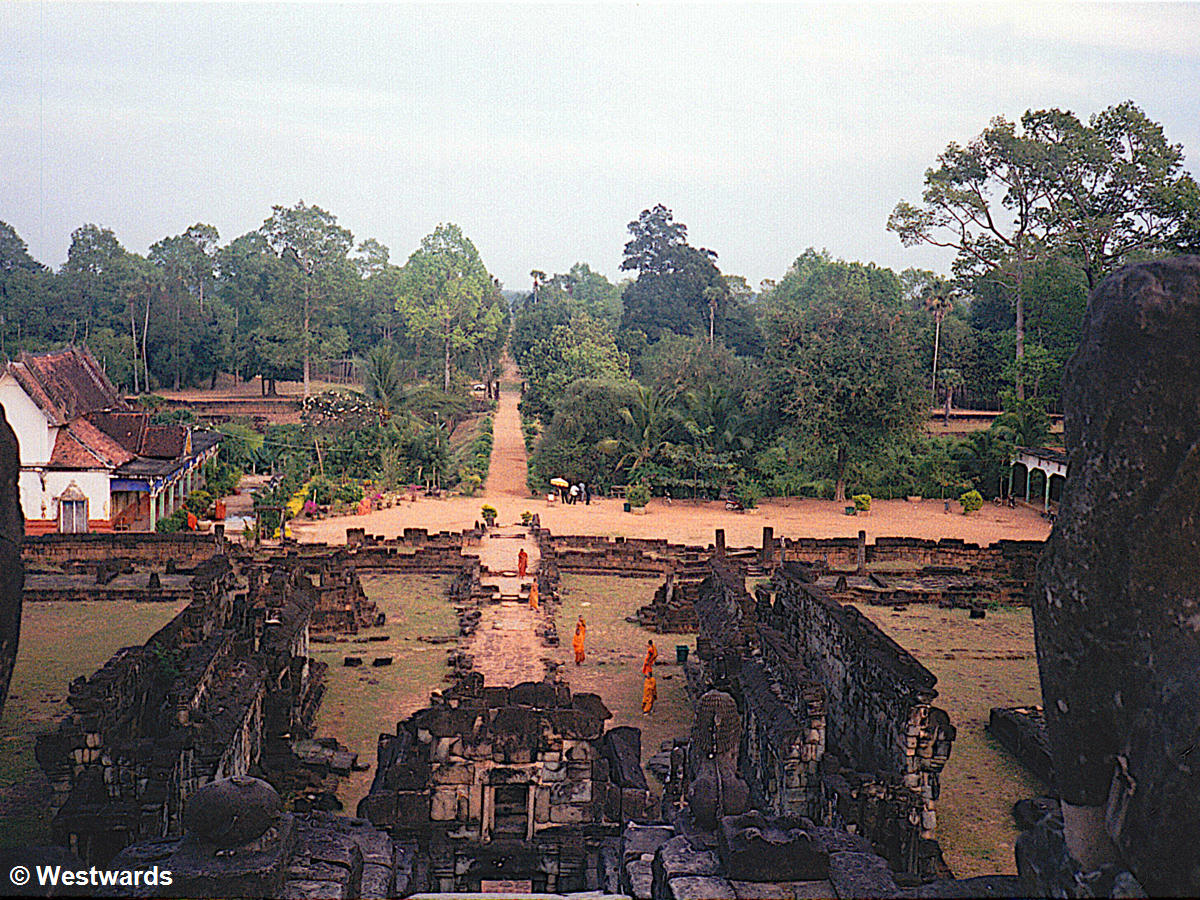 Many of the ancient temples of Angkor – originally there are both Hindu and Buddhist structures – are nowadays used as Buddhist sanctuaries. Therefore, Buddhist monks in their orange robes can be seen around the temples.
The road leading into Angkor Thom, the ruins of Angkor's Buddhist capital city, is lined by grim guardian statues.
Many of Angkor's sandstone temples are decorated with beautiful sculptures and reliefs such as these dancing deities.
The temple of Banteay Srei some distance from the large and famous temples of Angkor Wat and Angkor Thom is known for its particularly fine and detailed sand stone reliefs.
Overgrown ruins of Angkor Wat (not only 2001)
Like many temples of Angkor, Ta Keo was not meant to be overgrown. It was just that the teams of archaeologists couldn't be everywhere at once to protect the ruins from nature …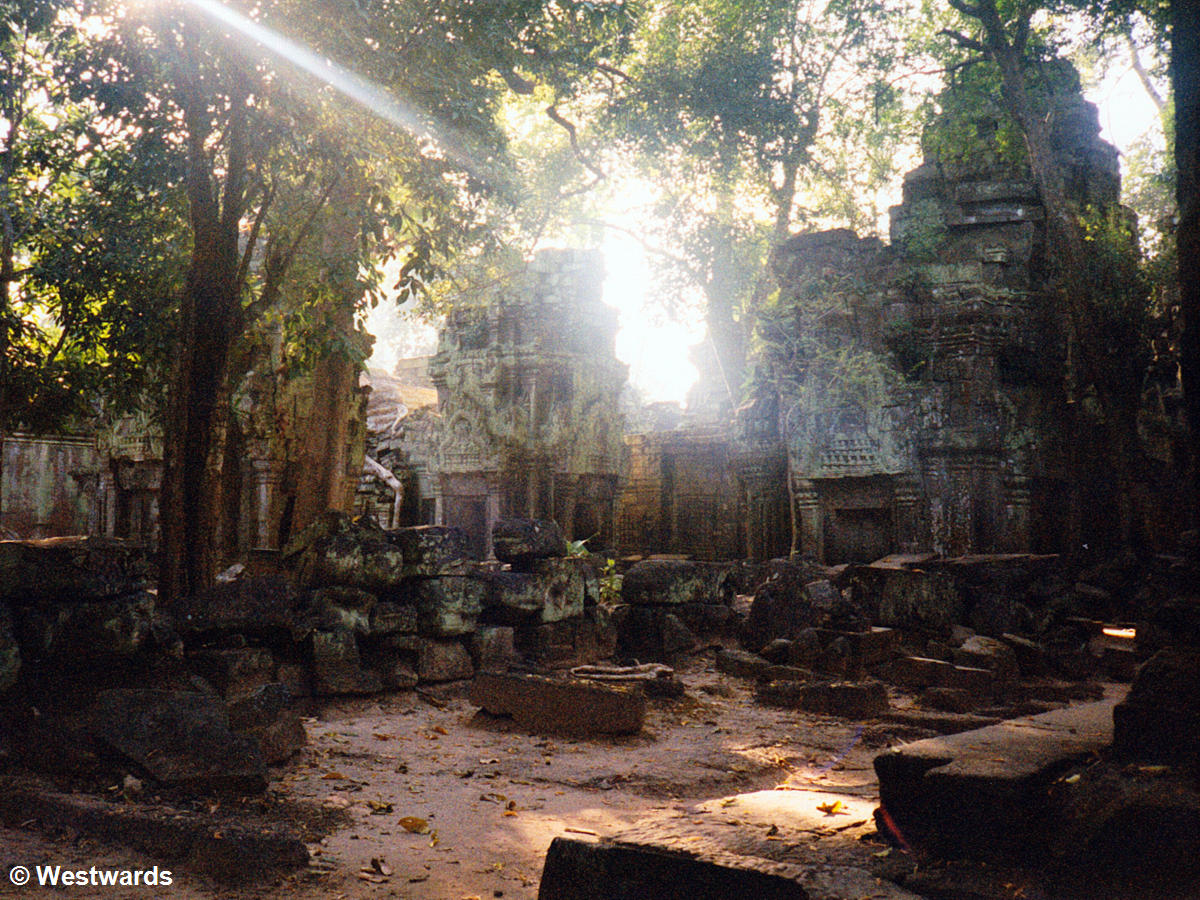 Only one of the temples in Angkor was intentionally left in such an overgrown state as the archaeologists had found them. Ta Prohm still conjures up the atmosphere of early explorers …
Tropical vegetation is growing all over the Ta Prohm Temple in Angkor.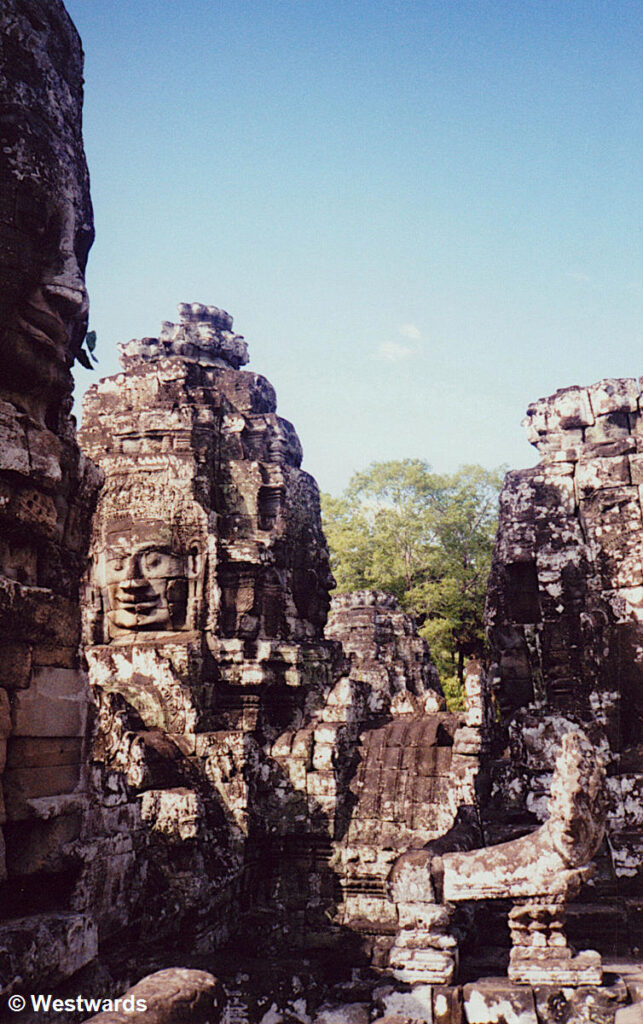 Buddhist sculptures on the Bayon Temple in Angkor
We went several times to see the large central Bayon Temple with its huge Buddhist heads. Around noon it was not so crowded. Conveniently for us, the tourist groups, who mostly came in directly from Thailand to visit only the Angkor temples, would always go to more shaded areas around midday …
Angkor Wat Temple
The huge temple complex of Angkor Wat is the most famous of Cambodia. But interestingly most tourists (especially the groups) would only come to see the famous skyline. Inside we found it very quiet and relaxed.
The countryside of Cambodia in 2001
Because the roads within Cambodia were in such a bad condition, we travelled to Siem Reap and Angkor Wat by boat, and left the town again by boat to Battambang (from where it took us a long day in a 4WD to reach Phnom Penh again).
Having seen Angkor Wat, we made another round through the countryside in the Southern part of Cambodia. The beaches of Ream National Park were beautiful and we were the only people there.
Travelling Phnom Penh in 2001
In 2001, we could still visit the Psa Cha of Phnom Penh – the atmospheric Old Market. The capital was not very developed – few streets were even tarred – and certainly not a tourist destination.
Motorbikes were the only means of transportation in Phnom Penh. Around the Royal Palace, the streets were clean and paved. Elsewhere, they weren't.