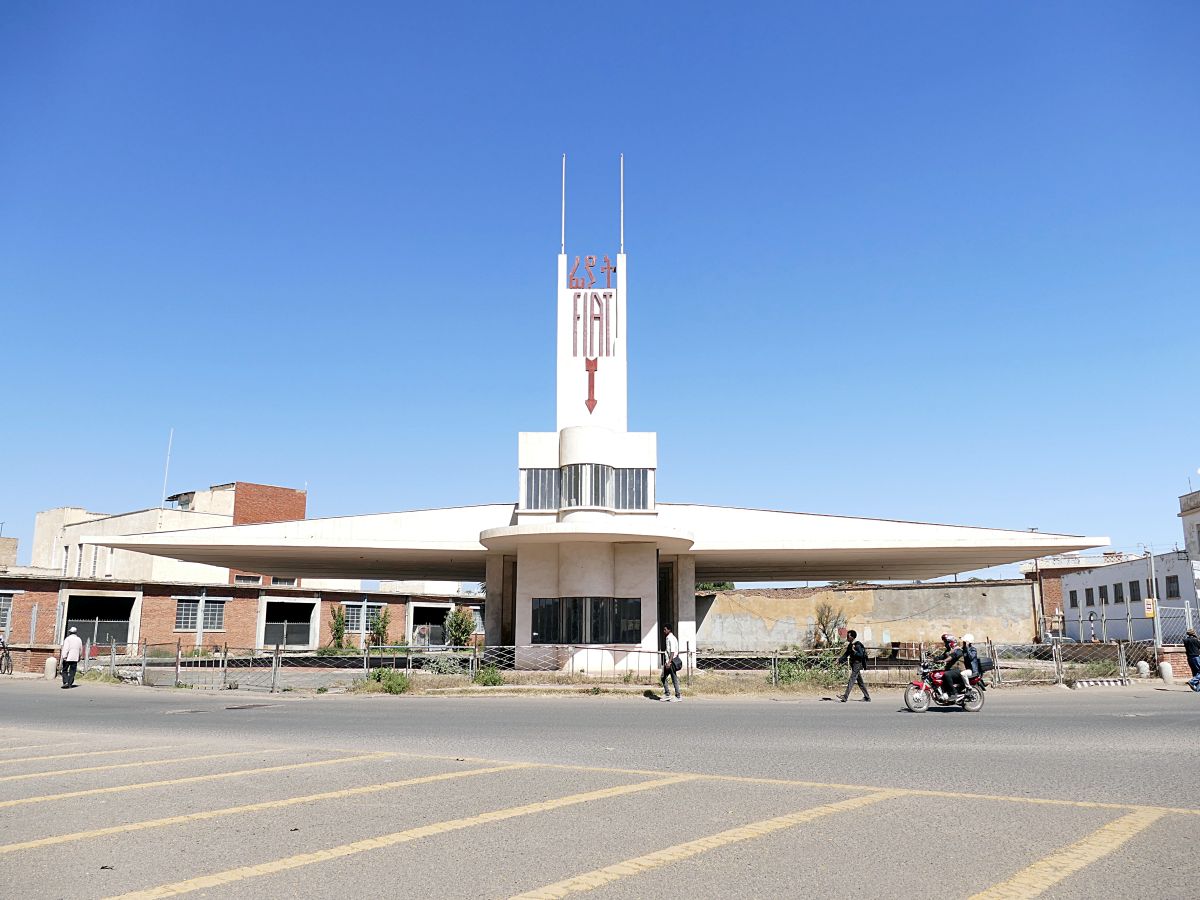 Getting the Visa for travelling in Eritrea was less tiresome than we had imagined, not least because we had allowed a couple of months for this task. The embassy staff crowded around us excitedly when we showed up in person to ask for a tourist Visa. "We had 900 Visa applications last year! Travel in Eritrea is increasing! Can you write a guidebook about our beautiful country?"
Never mind that they forgot to pass on the application at first…… But repeated phone calls did the trick and we finally could pick up our visa.
A visit at the tank graveyard
Once in the capital Asmara, getting the necessary travel permits proved somewhat more difficult. We also wanted to arrange a car for an excursion on the last day . Unwittingly, we did this in the wrong order, however. By the second day we had received the permits for excursions to Massawa and Keren on public transport, and fixed a deal for a car on the final day. With the car's number plate we could now apply for that last permit. But this required submitting all our previous permits, in the original, for another day or so. We had intended to pick up the last permit after our trip to Massawa, but now we could not leave Asmara!
Only an "exceptional exception" (after some discussions) made it possible to receive all permits before we started out for Massawa. Meanwhile we explored the sites in the capital Asmara, such as the infamous tank graveyard. This is a junkyard of military vehicles left over from the Independence war.
"You can reserve a seat on the bus the day before", the ambassador in Berlin had advised us. But perhaps he had mixed that up with German bus stations. After an hour's wait for more passengers our crowded minibus winds down the spectacular, if potholed, road. We are going to Massawa, 2300 m lower on the Red Sea coast.
A crumbling Ottoman trading town
An Ottoman trading town on an island (linked by a dam), the historic old town was heavily bombed during the independence war. But it still retains at least remnants of those beautiful Ottoman and Egyptian-period houses with arched doorways and shaded arcades. Some of the houses are restored or reconstructed after an earthquake in the 1920s. More recent damage however remains unrepaired. It stems from fighting during the independence war. In spite of this, people are living in some rooms of the crumbling buildings. We were planning to explore the alleys but soon end up lazily sipping tea in a café with outdoor seating on the main square.
The next day we visit the local museum and go on a tour to Massawa's most important relic: the Sahaba Shrine. The Sahaba Shrine is a small open mosque oriented towards Jerusalem rather than to Mekka. Archeologists think it could date from as early as 615. Early followers of Muhammad may have settled here. They were fleeing persecution from Muhammad's opponents and included the prophet's own daughter, Ruqayyah.
Travelling in Eritrea by bus
The next morning the queue for buses back to Asmara is long. Hundreds of small bags snake a long line around the bus station. These bags are marking the waiting position of their owners, but no bus has even arrived. An hour later, we have a place near the front of that queue. How can that be? There are professional queuers, who arrive early and stand in line for hours. Eventually they sell their spot to people like us. Now, someone hands us a plastic card as a pre-reservation.
By the time the bus arrives, a new queue has formed. Bags have been rearranged, and eventually we are lined up at the door based on queue position and neediness. Disabled people and clueless foreigners may board first, an officious elderly attendan is maintaining strict order. Half an hour later the bus is on its way to the Highlands and to the capital Asmara.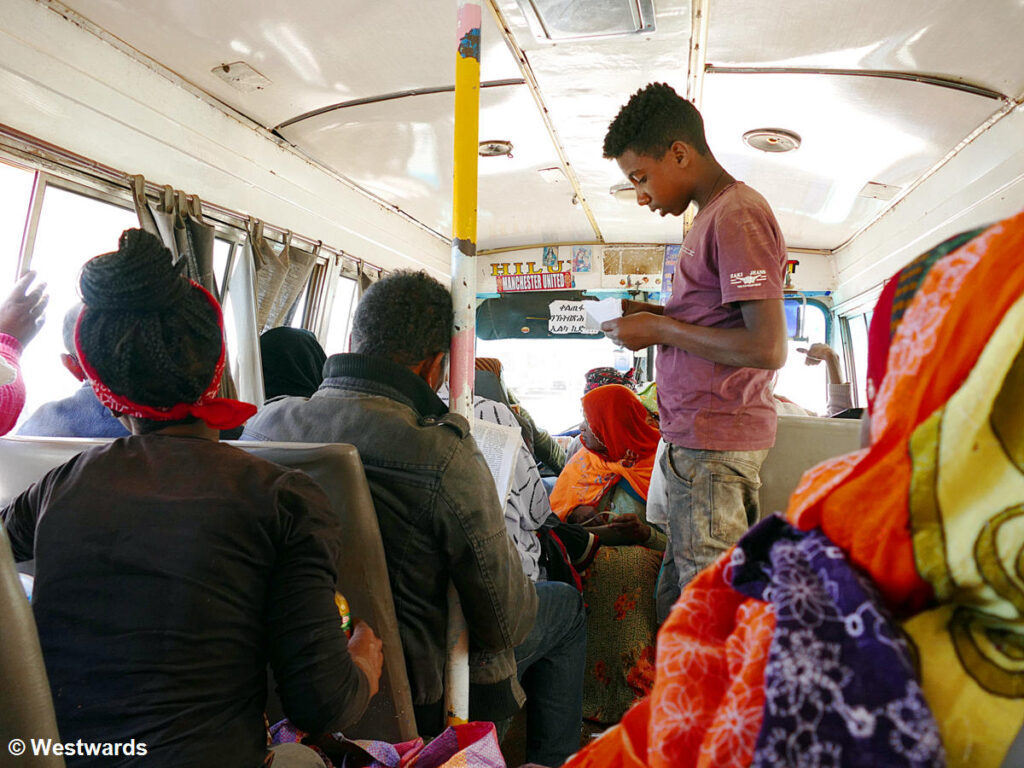 Waiting for the bus in various forms takes up some time on the other excursions, too. There are different rules and procedures for large public buses and private minibuses, we discover. We do a day trip to Decemhare. In this small town built by the Italians, 1940s buildings with an Italian Art Deco feel line the street.
We also visit the rather colourful Saturday market, but otherwise there's little to do.
Visiting the Keren market
The same goes for Keren, one of Eritrea's largest towns. At a medium altitude of about 1600 m it has a very pleasant climate. A commercial hub for the North of the country, Keren has extensive souks, a large open market in the dry riverbed, and a busy livestock market on the outskirts on Mondays. It is the only place in Eritrea except for the Asmara permit office where we see other tourists. Most of them are strolling in small groups. It is also the only place in Eritrea were begging schoolchildren with their greetings of "Money!" and "10 Nakfa!" are a hassle and at times even aggressive.
Cultural travel in Eritrea
On our last day of travelling in Eritrea, we spend hours on a long, winding, and ill-maintained road. It is leading towards the Southern border with Ethiopia which has rarely been open over the last decades. The archaeological site of Qohaito belongs to pre-Aksumite and Aksumite civilisations with remains that are well over 2000 years old. This high plateau of 2600 m was an important trading post once. There used to be a route between the Red Sea harbour of Adulis and the (now Ethiopian) town of Aksum.
But the lack of archaeologists and funds (not to speak of the wars) means that the ruins remain enigmatic. Not much has been excavated and studied so far. Only a few columns of temples and, later, Christian churches, rise from the desert ground. The view from the plateau towards the coast is quite spectacular, however.
A highlight of travelling in Eritrea was seeing the prehistoric cave paintings on the cliff below. They are only accessible from an ancient footpath. This trail has been linking Qohaito to the Red Sea coast for several thousand years.
After extensive travels in Central Asia and visiting several petroglyphic sites in Uzbekistan, Kyrgyzstan, Kazahkstan and Tajikistan, we have developed a strong interest in pre-historic petroglyphs.
Slow travel in Asmara
In between all these excursions we always had to go back to Asmara. So we had often time to relax in this restful little capital. Asmara has a definite dolce vita feel, with palms and a night sky full of dreamy stars, hundreds of sleepy cafés, and dozens of Modernist colonial buildings. They range from cinemas and petrol stations to a swimming pool. And there's not a single working traffic light in the capital, as far as we could make out. (There were traffic lights, though…).
Our tips for travelling in Eritrea
Altogether we enjoyed our time travelling in Eritrea. Nevertheless we found that 10 to 14 days was enough time in the country. Most other travellers we met spent only 2 to 4 days there, mostly in Asmara. We would suggest a bit more time for getting a feel for the vibe and the pace of the country. You will also need time for arranging permits if you want to venture outside the capital.
Have you ever been to Eritrea or are you thinking about travelling there? Tell us more in the comments.
How to travel in Eritrea
In order to travel to Eritrea, we applied for the tourist Visa at the embassy in Berlin. This took a few weeks. At least, with a German passport, it was not difficult at all. We flew with Emirates via Dubai, but there are also some flights to Ethiopia, Egypt and very few other destinations. Flights to and from Asmara are cancelled or postponed regularly due to fog (our return flight was).
We generally stayed in midrange hotels. They cost around 50 € per double room, without prior reservation. All had a proper hotel atmosphere, reception desk, restaurant, and running water, but not necessarily hot water and not quite European standard. Our hotels were:
Sunshine in Asmara (hot water, breakfast included, good service, very friendly)
Red Sea in Massawa (no hot water, breakfast not included, friendly, interesting architecture)
Costina in Keren (hot water, breakfast included, quite unfriendly).
Apart from the car with driver we arranged for Qohaito, we travelled around Eritrea on public buses. Public transport in Eritrea was cheap but time-consuming.
Eating out in Eritrea
Eritrea was not a culinary revelation and most locals don't eat out. Usually we could get fatta (bread in tomato sauce) and pasta as well as decent coffee. In most places we treated the tap water with Micropur pills – bottled water is very expensive.
Note: We were not sponsored in any way. Nor did we receive money or other benefits for and during our travel in Eritrea. All expenses we paid ourselves.
Never miss a new post! Get notifications about new posts straight into your inbox!