This summer we spent three weeks travelling in Iceland. After a few days in Reykjavik, we rented a car and circled the country along the ring road, including the Snaefellsnes peninsula and the Westfjords.
Many of our friends have been to Iceland at some point – often many years ago. Every one of them recommended that we go, and the sooner the better. Whatever we read in travel guidebooks, journals, or on travel blogs and social media, was rapturous praise.
We tend to be sceptical of all-too-popular destinations (such as Vietnam or New Zealand), but Iceland did look special. The volcanoes, the glaciers, the cliffs and the sheer, empty landscapes! In the midst of the 2021 Corona restrictions, there wouldn't be too many tourists, either. So, off we were for our Iceland adventure.
After coming back to Germany we spent some time summing up the trip. What were our Iceland travel highlights? What did we like about Iceland and the Icelanders? What annoyed us about travelling in Iceland? And why?
Nature and wildlife
The nature and wildlife of Iceland is its big draw. During our stay we could hike close up to an active volcano and visit some areas with high geothermal activity. We saw historical places and rocks marking the edges of continental plates. Several times we had a bath in hot pools in spectacular surrounding. We watched huge seabirds, a lot of seals, and some dolphins. Unfortunately, we did not see any whales when we went on a whale watching tour once.
It goes without saying that we visited a LOT of waterfalls, because that is what you do in Iceland. There is a waterfall behind every other corner. Some of them were very impressive, but we are just not that much into waterfalls. Overall, the variety of spectacular landscapes in Iceland was exceptional and fantastic.
Hiking
Wherever we travel we try to fit in some hikes, preferably multi-day hikes. As we were travelling in Iceland by car, we decided to do shorter treks. We wouldn't go into the highlands, either, because we did not have a four-wheel-drive to cross rivers and navigate bad roads.
Most of the hiking suggestions we researched for our Iceland trip seemed rather short, however. With descriptions such as "7 km, 4 hours" we wondered just how difficult the terrain could be? To be prepared, we took high boots, gaiters, walking poles, emergency kits … In the end, most trails were access paths to sightseeing attractions. To accommodate thousands of (bus) tourists, they were well-developed broad paths, some even covered with rubber ring mats. Although we did find some "normal" hiking trails, we ended up doing several walks a day, but very few hikes of more than one or two hours. Overall, the hiking left us somewhat disappointed. But perhaps this was due to planning mistakes on our side.
The Icelanders
Icelanders are tolerant and inclusive, progressive and open. We loved the positive vibe during gay pride week in Reykjavik and the whole country. And we met a lot of people with different nationalities living and working in Iceland. In general, they seemed quite happy there.
And yet, outside of Reykjavik we almost never actually met and talked to Icelanders. The whole of Iceland has about as many inhabitants as Neukölln, our city district in Berlin. And that's on an area 2000 times as big. Obviously, most Icelanders are busy running their country. On weekends, there were locals on the campsites where we stayed – but they grouped their huge caravans to corrals and kept among themselves. We couldn't blame them, because their whole country seems to have been taken over by tourists. Iceland was perhaps the country where we had least contact with the locals even as individual travellers.
The tourists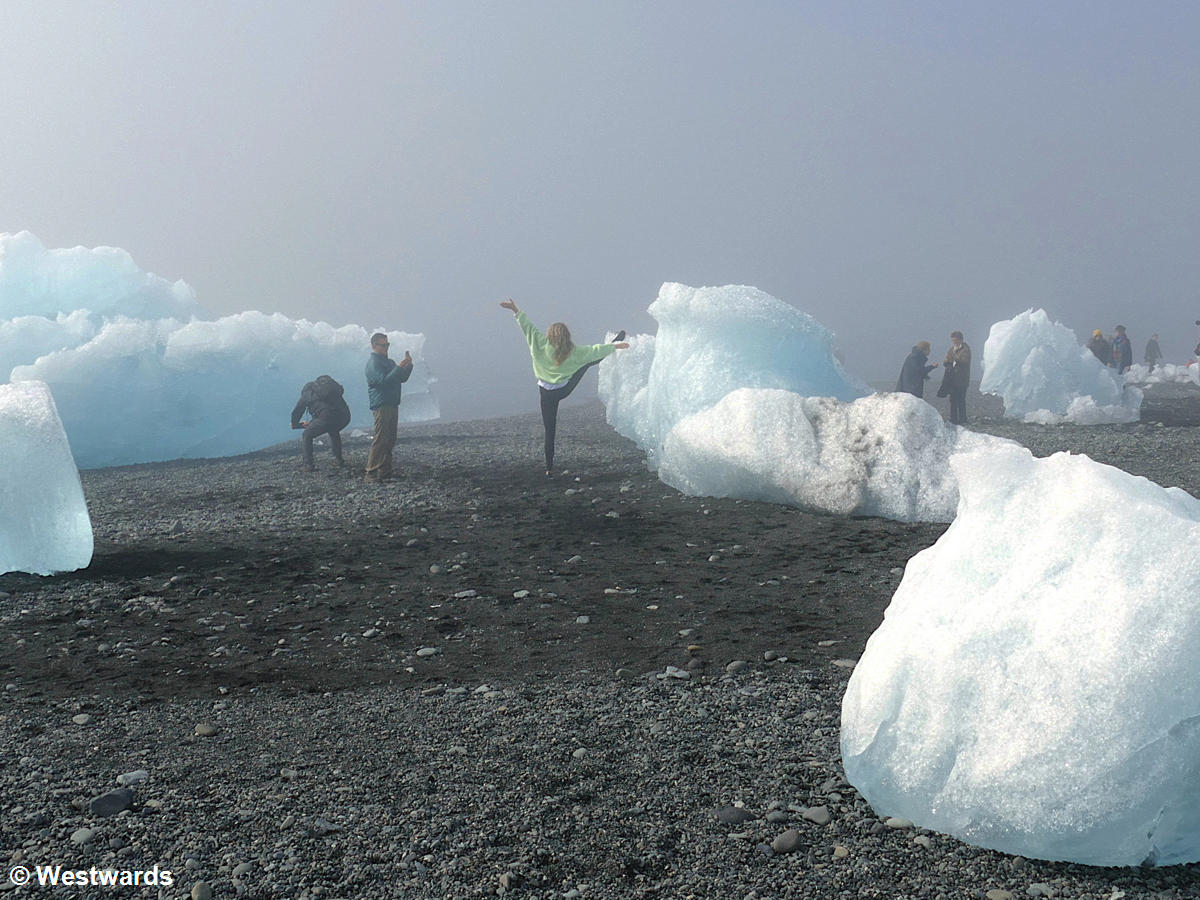 Before Corona struck, Iceland had massive problems with overtourism. And even with the Corona restrictions in place there were a lot of tourists. We were among those tourists, after all.
At every sightseeing spot there were huge parking areas and broad walkways to the attraction. Most of the time this would be a waterfall or a scenic canyon. Rope barriers indicated off-limits areas, to prevent tourists from straying from the marked paths. A good idea, considering that the nature is very fragile and takes ages to regrow. In fact, we did appreciate the opportunities to take pictures without hordes of people posing for Instagram. On the other hand, it felt quite like a staged experience. And of course, there were always people who stepped over the ropes …
General costs and quality of food
Everything is very expensive in Iceland. This is because of the climate and Iceland's remoteness. Nearly everything must be brought in from the outside: we get this. Still, the quality of things, be it campsites or food, was poor. We had just spent six weeks in Switzerland, where everything is expensive, too. But at least we felt that we get value for money. This was different in Iceland most of the time. We had some nice Fish & Chips meals, though.
Road Tripping
And finally – road tripping is not our favourite mode of travelling. With the car, we decided against longer hikes that would have required additional transfers into the mountains. This made sense due to the limited public transport and the Corona situation. But still, we feel driving your own vehicle limits the interactions with locals and reduces the travel experience. Granted, we saw different things and very likely more "attractions" than on public transport. At the same time, we experienced less of Iceland.
Would we visit Iceland again?
We are glad that we went to visit Iceland, but to be honest, we are not smitten. We would like to return for a longer hike, though. The Hornstrandir peninsula looked glorious from a distance and apparently offers some spectacular hiking, so we might return for that.
Have you been to Iceland? What are your thoughts about travelling in Iceland? Let us know in the comments.
NB: We did not receive any sponsoring for our trip to Iceland. We paid all expenses ourselves.
Never miss a new post! Get notifications about new posts straight into your inbox!