The petroglyphs in Central Asia offer a marvellous glimpse into a distant past. At a time when people did not have a script to write down their ideas and beliefs they used stone tools to carve idols, gods and animals into the rocks. And some of the most outstanding petroglyphs can be found in Central Asia. They are however not always easily accessible or well-known.
During our extensive travels in the Stan countries we have visited some of them (there are still a lot more to explore!). Some of the petroglyphs in Central Asia are located near settlements and easy to reach, occasionally they are even tourist attractions that the locals know. By contrast, others are not even properly indicated on maps, or you will have to walk for hours or days to reach the petroglyph sites. Searching for these petroglyphs as just a curious traveller can be quite an adventure!
It is also worthwhile to seek out the old Silk Road towns in the area, like Paikent and Varakhsha in Uzbekistan and Akyrtas in Kazakhstan.
A short history of the petroglyph sites of Central Asia
The oldest petroglyphs in Central Asia are 5000 years old. But most of them date back to the time of the Scythians. The Scythians were nomadic people, famous for their riding skills. They lived during the 8th/ 7th century BC on the vast Eurasian steppes. Some of the petroglyphs in Central Asia are relatively new, from the pre-Islamic or even beginning of the Islamic times.
The early petroglyphs were literally carved into the stone with primitive stone tools while newer ones are often more scratched on the surfaces of the rocks.
The motifs are often animals, mostly ibex. The ibex was associated with different gods in the Indo-Aryan culture. Ancient communities of hunter-gatherers hunted ibex for food and also used them for sacrifices. Some scientists believe that our ancestors even domesticated the ibex, because some of the petroglyphs show a row of ibexes with a dog.
Another animal quite often seen is the aurochs. The wild ancestor of modern domestic cattle is today extinct. In Central Asia the animal vanished around 1000 BC, thus making it easier for archaeologists to date such images. Deer and later horses and camels are other animals recognisable in the petroglyphs in Central Asia. Besides animals our ancestors also frequently depicted humans, often in hunting scenes, to a lesser extent in religious rituals. Very likely there was a sun cult prevailing in Central Asia in pre-Islamic times.
The Cholpon Ata Petroglyphs in Kyrghyzstan
Some of the most impressive and easiest to reach petroglyphs are in the outskirts of Cholpon Ata in Kyrgyzstan. In an area of almost 100 acres numerous rock carvings are found. Cholpon Ata has been used by several cultures. It was very likely a ritual place. Scientist agree that the rocks were not moved to the site – but that it must have been a vast field scattered with huge rock slabs from the beginning. It is likely that the people sought out such conspicuous geographic features as worship places. All the carvings are aligned to the south, i.e. towards the sun. In between the rock carvings there are tombs and memorial stones in the shape of humans, so-called balbal. The most famous scene you will find in Cholpon Ata is a large-scale Scythian hunting scene with snow leopards and ibex.
How to get to the petroglyphs of Cholpon Ata
Cholpon Ata is situated on the north shore of Lake Issyk-Kul, 250 km from the capital Bishkek. Mini buses run frequently between Bishkek and Issyk-Kul. The petroglyph open air museum is in a walkable distance from Cholpon Ata village. There is a not very helpful overview plan near the entrance but no signage to the important rock carvings. Sometimes there is a guide available on site. If you only visit one petroglyph site in Central Asia, make it this one as it is easy to reach and quite impressive.
Tamgaly Petroglyphs in Kazakhstan
The Tamgaly petroglyphs make up the only site of petroglyphs in Central Asia inscribed as a UNESCO site. These petroglyphs in Kazakhstan include some of the oldest ones you will find in the region. The earliest of them are dating from around 2500 BC. Moreover Tamgaly is the place to see depictions of the famous sun-headed persons. Obviously this also refers to some kind of sun cult. Also unique is the depiction of a sort of cart with wheels and spokes. So, it might actually have been Central Asians who invented the wheel more than 4000 years ago!
How to get to the petroglyphs of Tamgaly
Tamgaly Tash is 160 km away from the Kazakh capital of Almaty. From the parking area it is a 15-minute walk on clearly marked paths. It will bring you close to the sun-headed person and to the beautiful oxen, horses and camels. There is no public transport to Tamgaly Tash, you will have to rent a car. While a 4 WD is not really necessary, a car with a high undercarriage is advisable, as the last 10 or 20 km are on a very bad road.
Sarmishsay Petroglyphs in Uzbekistan
Sarmishsay is the biggest petroglyph site in Uzbekistan. While it lacks the spectacular depictions of Cholpon Ata and Tamgaly Tash it offers a lot of different animal depictions. In addition, it is relatively easy to reach. The oldest carvings in Sarmishsay are some petroglyphs of aurochs that are more than 3000 years old. But there are also images of sheep, goats, and dancing figures.
How to get to the petroglyphs of Sarmishsay
The closest town to go by public transport is Navoi between Bukhara and Samarkand. The petroglyphs are around 30 km northeast of the town of Navoi. A taxi for a half day trip should cost around 30$. The petroglyphs are along the walls of a 3 km long gorge, where you will have to walk.
Chimgan Petroglyphs in Uzbekistan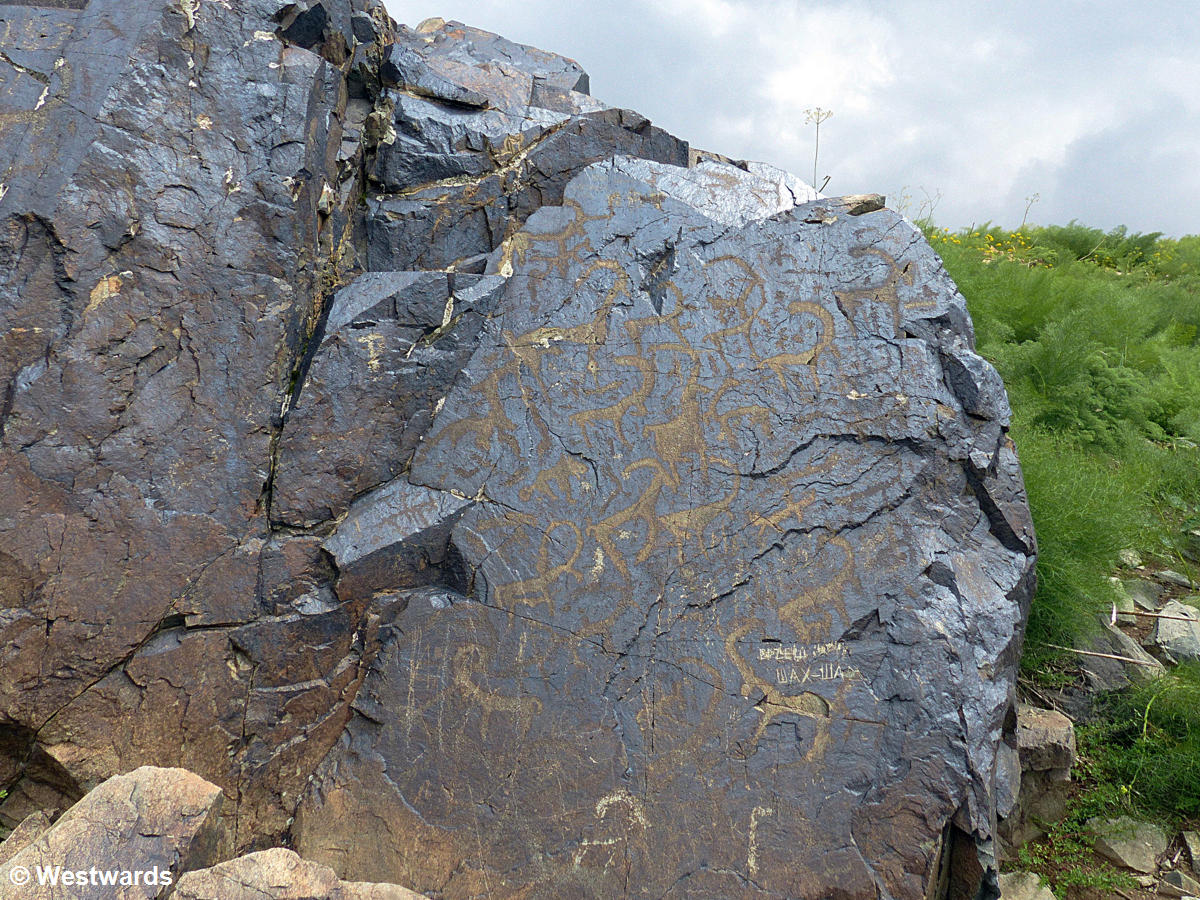 While you can get to the above-mentioned petroglyphs fairly easily you really have to walk (i.e. hike!) to reach the petroglyphs in the Chimgan mountains in Uzbekistan. The petroglyphs are situated high up in the mountains at 2450 m. They consist only of two larger rocks with deer carvings. However the setting high up on the mountain is spectacular and getting there is really an adventure.
How to get to the petroglyphs on Mount Chimgan
First you have to make your way from the capital Tashkent to Beldersoy in the Chimgan mountains of Uzbekistan. From there it is a 15 km hike up into the mountains, with an altitude difference of 1350 m. You can use an old soviet chairlift instead of hiking up (but have to climb down a few hundred meters then). We have marked the petroglyph site and the path on Openstreetmap. Be aware that this is a mountain hike – you will need proper equipment.
The Langar Petroglyphs in Tajikistan
Langar is the biggest petroglyph site in Tajikistan and situated in the Gorno-Badakhshan region. Around 6000 petroglyphs are dotted on a hillside high above the village of Langar in the Wakhan Valley at the confluence of the Wakhan and the Pamir River. Most frequently you will see the ibex but there are also some hunters with bows (that look more like guns). The area has been inhabited for a long time. Indeed, a large group of petroglyphs show Islamic motifs or religious text in Arabic and Farsi script from the 8th century. But there is also a growing amount of 21 century graffiti at the site.
How to get to the petroglyphs of Langar
From the village of Langar it is a nice half day trek up to the petroglyphs. They are scattered around a vast area and are rather small. As there are no signs to indicate the location it is advisable to hire a guide in Langar. The region of Gorno-Badakhshan itself is rather difficult to reach compared to other petroglyphs in Central Asia, however, and you need a special permit.
Should you visit the petroglyphs in Central Asia?
Yes! Especially if you like non-touristy off-the-beaten path destinations that give you an explorer feelig. We have personally visited all the above sites and some more. For easy access we would recommend Cholpon Ata in Kyrgyzstan and Sarmishsay in Uzbekistan. The Tamgaly petroglyphs are more for specialists as renting a car with driver will set you back at least 150$.
Central Asia is not the only place where you can find petroglyphs. We also have visited petroglyphic sites in by camel in Jordan and by Jeep in Eritrea. Have you visited any petroglyph sites around the world? We are curious about your experiences and impressions!
Never miss a new post! Get notifications about new posts straight into your inbox!