On our first evening in Ljubljana, the capital of Slovenia, we pass a bridge sporting fierce dragons. They are Ljubljana's heraldic animals, and we spot a lot of them in town. Beyond the dragon bridge, we walk along a row of antique-looking porticoes bordering the market square. These arcades along the river originally served as market buildings and are among the most conspicuous works of Jože Plečnik's architecture in Ljubljana.
We got quite interested in the clear and shapely but quite often not very functional constructions, and armed with a map of the Plečnik architecture from the tourist information explored Ljubljana. The touristic interest has increased recently: In 2021 the UNESCO listed Jože Plečnik's architecture as a part of the World Heritage. In the end we visited quite a number of buildings and structures by Jože Plečnik.
Born in Ljubljana
Jože Plečnik was an architect from Ljubljana. Born in 1872 when the city (then known as Laibach) still belonged to the Austrian-Hungarian Empire, he studied design and architecture. In Vienna, Jože Plečnik studied under Otto Wagner, an icon of the Vienna Secession and became heavily influence by him. Apparently he was a rather wilful but excellent student. By 1900, Jože Plečnik had his own architectural bureau and wealthy clients. Soon after, he got a job in Prague as an architecture professor and chief architecture of Prague Castle. But he did not stay in Prague for long.
Half-way through the Old Town of Ljubljana, we walk over another bridge. The Cobblers' Bridge is a foot bridge, but it is wide and impressive like a Parisian boulevard. Another one of Jože Plečnik's architectural works. The bridge is a connection between two squares on either side, and Plečnik adorned it with columns topped with orbs, like a colonnaded road over the river.
Plečnik's return to Ljubljana
It was in 1921 that Jože Plečnik came back to Ljubljana to become an architecture professor at the newly opened university in his home town. Besides that, he single-handedly redesigned the old town quarters of Ljubljana within the space of a few decades. With the demise of the Austrian-Hungarian Empire, the town had suddenly become the capital city of the new state of Slovenia in 1918. And accordingly, the new status required a more metropolitan flair. That didn't mean, however, that Slovenia had a lot of money to spend on its capital. Jože Plečnik's architecture in Ljubljana had to make do with relatively simple means.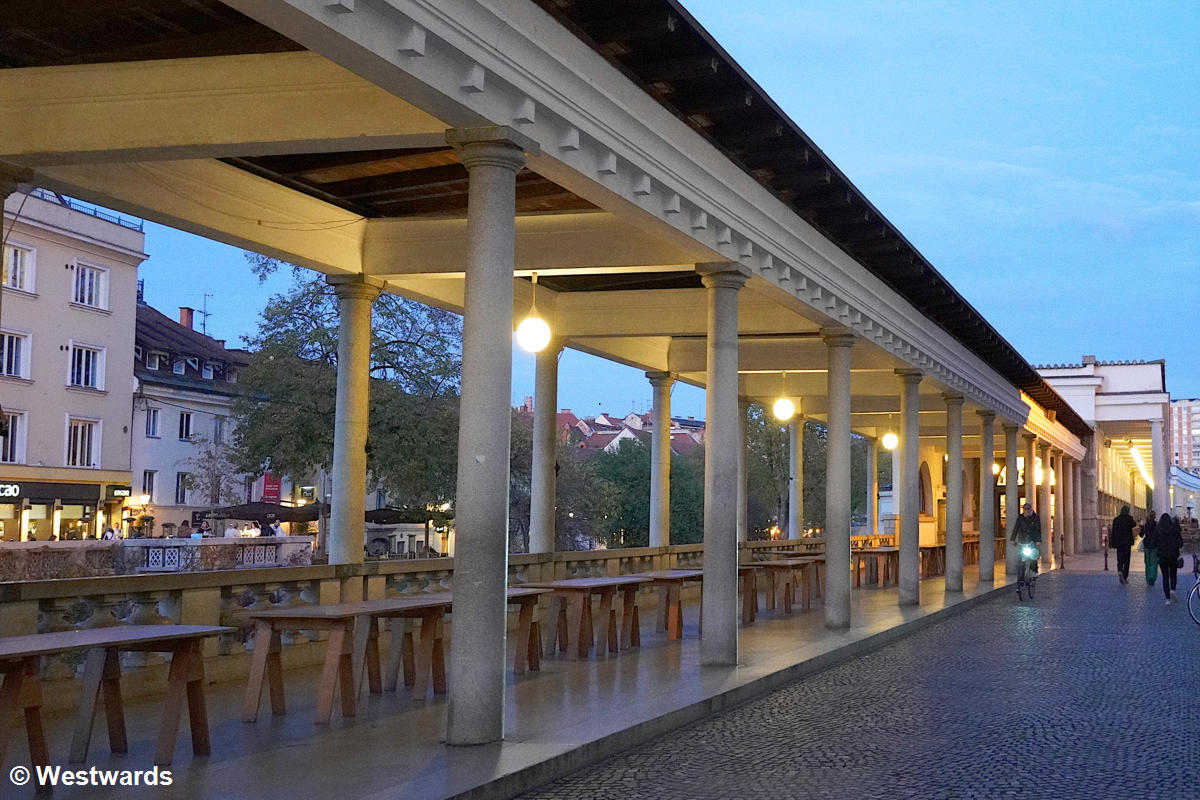 For the new buildings, churches, and bridges, he used local stones and often concrete. But for the forms and designs, Plečnik's inspiration came from classical architecture which he had seen on a travel stipend in Italy. As in the market porticoes along the river, he used classical Ionic columns. In addition, Plečnik's designs often sported pyramid shapes and large orbs, even if these elements had no function in the statics of a building. In some aspects, his designs remind us of the garden architecture of Prince Pückler-Muskau in Germany and Poland, who also loved pyramids and classical columns.
The National Library
One of the most impressive buildings by Plečnik in Ljubljana is the National Library. The huge staircase is flanked by large black columns. From the dark entrance lobby, visitors gradually emerge into a lighter hall on the first floor. The large Reading Room beyond this is usually closed to visitors. But on Saturday afternoon we are lucky to be allowed in because of a special opening. Large windows on the narrow sides flood the room with mild light. The passage through the dark, antique-looking columns into the light was meant to symbolise the enlightenment associated with a library.
Fitting with his first name, which means Josef, Jože Plečnik originally studied to be a furniture designer like his father. Such a background he had in common with other architects such as Gerrit Rietveld, a pioneer of the Stijl Movement in the Netherlands. Therefore, like other famous architects of his own time such as Charles Rennie Mackintosh in Glasgow, Plečnik also designed his own furniture. For the reading room, he had several chair designs, and the enormous chandeliers are still awe-inspiring.
Visiting the Plečnik House in Ljubljana
We also walk to the Southern part of town to visit Jože Plečnik's private house. It belonged to his brother, and Jože Plečnik added a circular appendix and a large winter garden to the house. In the winter garden as well as in the large garden, he tried to recreate the Mediterranean atmosphere he associated with classical architecture.
Plečnik's contemporaries apparently found him quite eccentric, not least because he was an affirmative workaholic and rather misanthropic. Plečnik not only despised unannounced visitors. Most of the time he let them wait outside, hoping they would eventually give up. But he also despised idleness in himself. To counter that, he tried to reduce all kinds of comfort: His own bed he designed to be too short, and the chairs, uncomfortable. His meals were punctual and healthy, but ascetic. Accordingly he died in his bed correcting student papers at the age of 84.
Plečnik's fading fame after World War II
After World War II, Jože Plečnik was already over 70 but continued to teach architecture. His commissions for public buildings, however, became ever less. With new architectural trends such as Modernism and more importantly, new rulers in the successor state of Yugoslavia, a younger group of architects took over. Jože Plečnik's architecture in Ljubljana remained important for the look of the city, but his classical ideals were no longer appreciated.
More of Jože Plečnik's architecture in Ljubljana
The tourist information in Ljubljana provides a very good map with explanations on the architecture of Jože Plečnik. In addition they also offer guided tours, but only on some days of the week. We were happy with the map and hunted down most of the Plečnik monuments and buildings in the surroundings of the old town. If you want to see more Plečnik architecture in and around Ljubljana we can recommend the following:
The broad and impressive Tromostovje Triple Bridge
The majestic entrance gates of the cemetery in Žale
The restored and reconstructed Roman Wall of Emona Town
The classical-inspired Sluice Gates in the Ljubljanica River
The somewhat playfully decorated Križanke Monastery
Is the architecture of Jože Plečnik in Ljubljana worth a visit?
If you are interested in architecture and city planning you wil have fun hunting down the monuments. It might be a good idea to start your tour at the Plečnik House. There is a small exhibition you can visit freely. Visits of the actual living quarters are only possible with a guided tour at every hour. This will give you a good base for independent exploring. As his buildings and structures are scattered throughout the city, you will also see various parts of Ljubljana. This is especially true if you walk. The Ljubljana Tourist information provides a special map with all the Plečnik buildings and monuments.
How to get to Jože Plečnik's architecture in Ljubljana
All of the places in the old town can be easily reached on foot. For the Žale cemetery you can take bus No. 2 or 7 from the centre.
NB: We had no sponsoring for our trip to Ljubljana. For the tour of the Plečnik House we got press tickets, but otherwise we paid all expenses ourselves
Never miss a new post! Get notifications about new posts straight into your inbox!
Pin it for later!