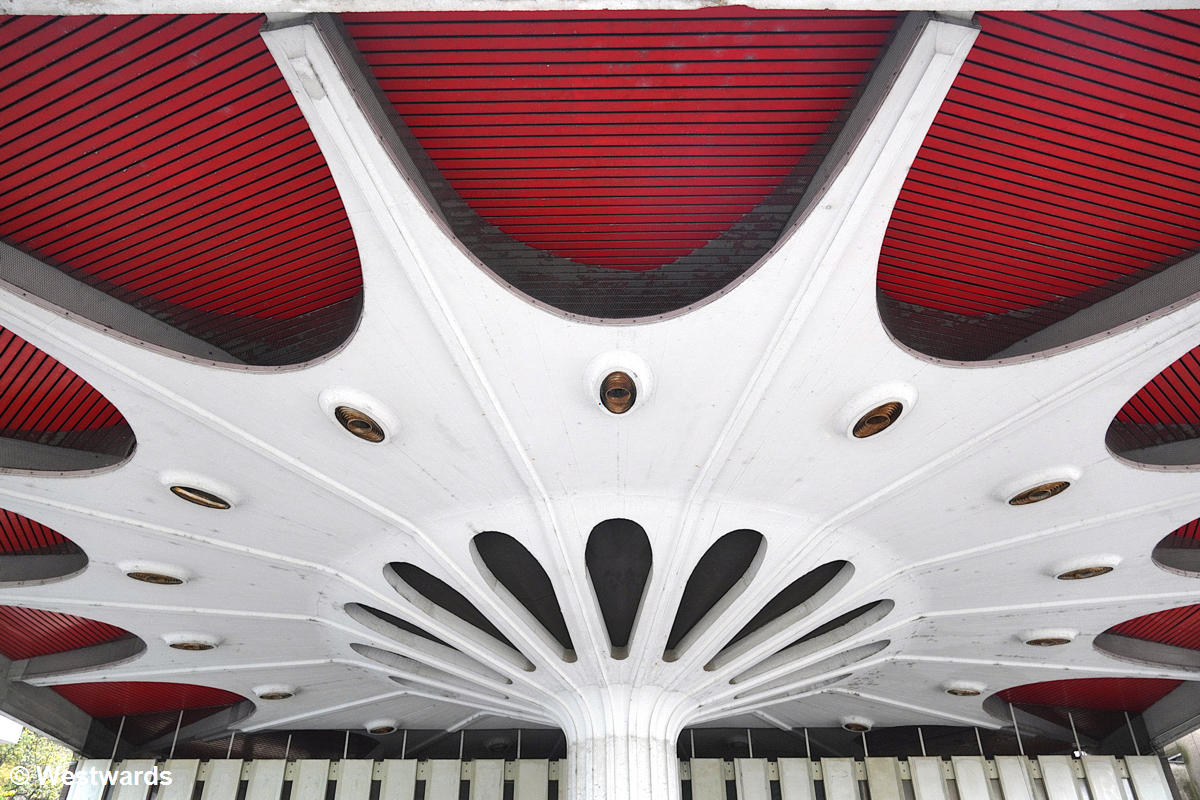 Did you ever make a longer detour to take pictures of iconic petrol stations? Well, we do sometimes during our travels.
Those who have been following our stories for a while know that we like history. Therefore, we always have a look at the UNESCO sites before we travel to a new place. But there are a lot of other things we look up at the places we visit! For instance, we check for modern architecture, third wave coffee shops, vegetarian restaurants, or invader mosaics. And we try to find out if there are historical petrol stations in the area.
Although we do not own a car (living in Berlin, we do not need one) and Natascha does not even have a driving license, we like the nostalgic feel and the sense of naïve belief in technology. So we sometimes go a bit out of our way to find an iconic petrol station. At other times we may spot an old petrol station by chance.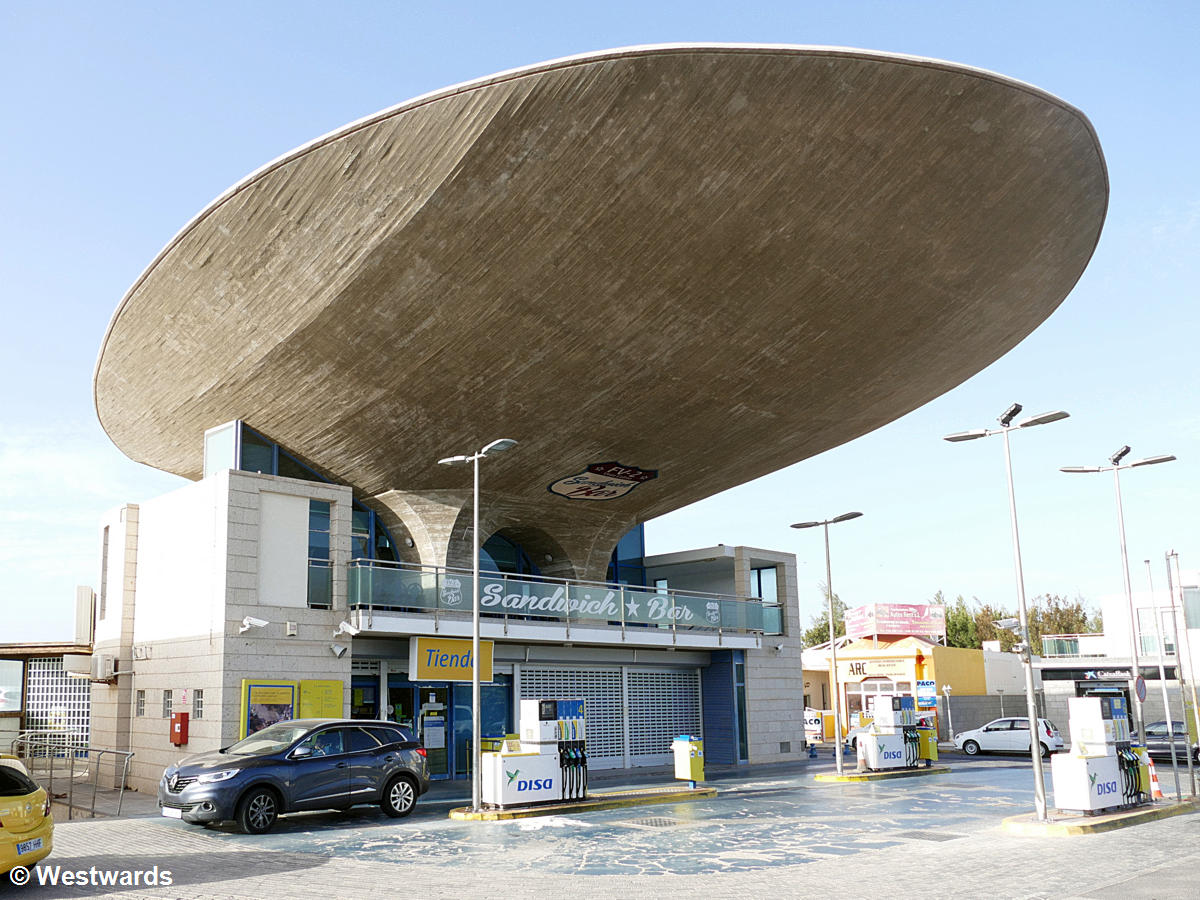 And last but not least, petrol stations hold a promise of travel, of the world beyond. We like that.
A very short history of petrol stations
The need for filling up fuel on the road came with the invention of cars. In the beginning it was pharmacies who sold petrol as a side business. Besides petrol, pharmacies also dabbled in the lemonade business. That's because they had the equipment for carbonizing water, and many installed soda fountains in their shops. Indeed, it was a pharmacist who invented Coca Cola in 1886.
Back in these early days, the motorists bought the petrol in cans at the pharmacy and filled up themselves. It was an improvement when curbside petrol pumps sprang up, where drivers could fill up directly into the car on the street. These early petrol pumps still got their fuel from a barrel in a nearby shop. But then with the rising number of automobiles, curbside pumps caused annoying traffic jams.
The first "modern" drive-in service station opened in Pittsburgh/Pennsylvania in 1913. Now the automobiles could drive into a special area with a roof that sheltered them from rain. Remember, many were still open carriages! And soon these gas stations sold other automotive services as well, such as snacks and maps. It was the birth of an entirely new category of building: the petrol station.
The Skovshoved petrol station near Copenhagen
One of the most memorable petrol stations we visited is the Skovshoved petrol station near Copenhagen. This icon of modernist functionalism has been built by the famous Danish architect Arne Jacobsen in 1937. Nicknamed the "toadstool" for its unique overhanging roof, it is an architectural eye-catcher up to this day.
The petrol station is part of the Bellevue quarter just north of Copenhagen. The area was developed in the 1930s for the richer part of the Copenhagen society. Arne Jacobsen also designed some other public buildings in Bellevue, like the beach bath, a summer theatre, and some housing blocks. The so-called "White City" (because most of the buildings are white) was one of the earliest projects in Denmark that picked up influences from the German Bauhaus and the architecture of Le Corbusier.
Today it is still possible to fill up at the Skovshoved petrol station. We came by bicycle from Copenhagen and had a good coffee in the former car-wash section – now a stylish on-site coffee shop.
How to get to the Skovshoved petrol station
Without a car the easiest way to go to Skovshoved from Copenhagen is by train (station Klampenborg). In the area you can also visit the Jaegersborg Dyrehave, one part of the UNESCO-listed par-force hunting landscape of Denmark. For a perfect daytrip, combine the petrol station with a visit to the par force hunting landscape and the oldest amusement park in Denmark, the Bakken Fairground. Cycling is also possible and will take around 1,5 hours one-way. A bicycle is also necessary to properly explore the Dyrehave deer park.
The Fiat Tagliero Petrol Station in Asmara /Eritrea
Another well-known iconic petrol station is the Fiat Tagliero Petrol Station in Asmara/Eritrea. The area became an Italian colony in the second half of the 19th century and from 1920 onwards the Italians started rebuilding the city of Asmara. During WWII the building activities culminated in an all-out effort to turn Asmara into a modern African metropolis. The city became an architectural playground for European architects, and modern cinemas, pools, a train station, and housing quarters arose throughout the city.
It was the Italian architect Giuseppe Pettazzi who designed the futuristic Fiat Tagliero Petrol Station. Completed in 1938, it looks like a plane with large, cantilevered wings and stylish wrap-around windows. This was shortly after the Italian army flew heavy attacks at larger parts of Ethiopia, killing tens of thousands of people.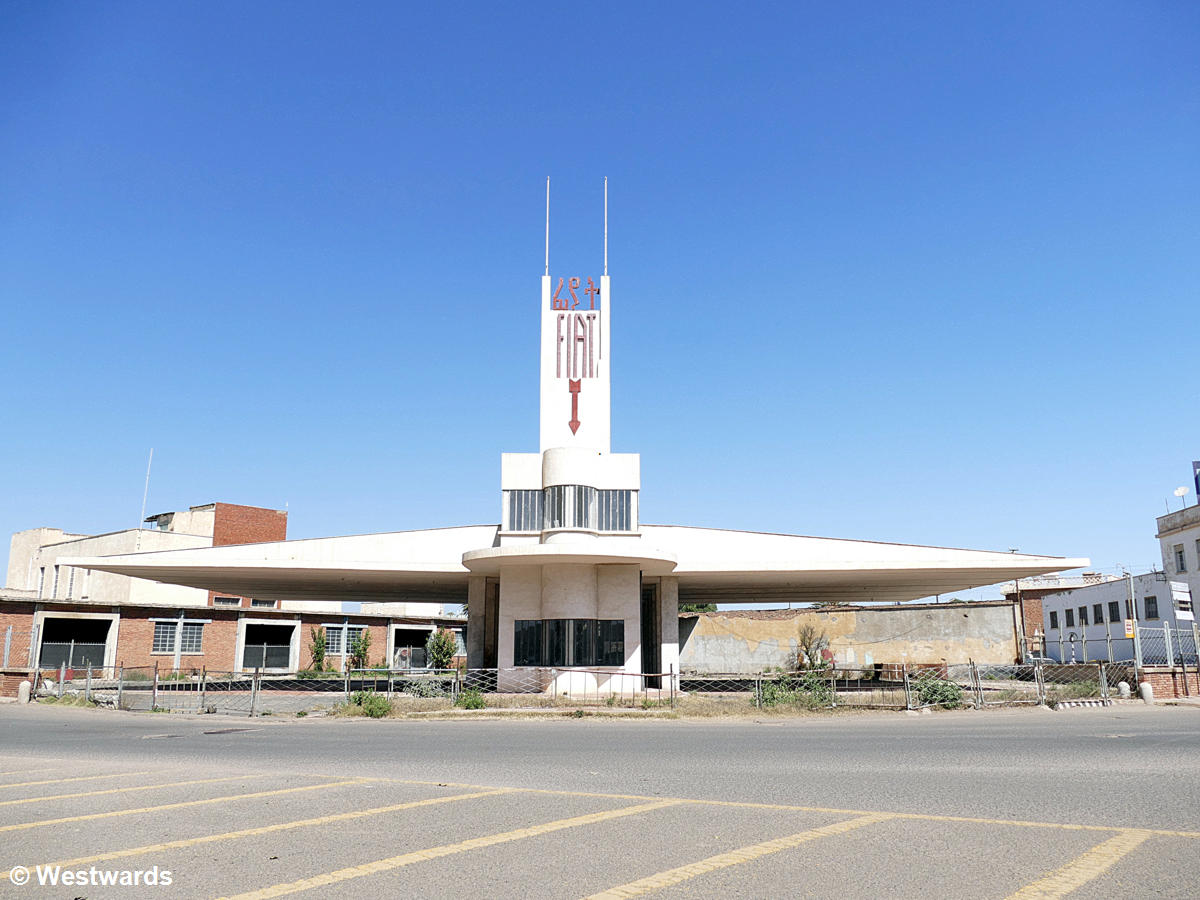 It is fun to walk around Asmara discovering fantastic modernist buildings. Together with several other modern buildings in Asmara the Fiat Tagliero Petrol Station became a UNESCO World Heritage site in 2017. The Jury rated it as an exceptional example of early modernist urbanism at the beginning of the 20th century and its application in an African context.
Where is the Fiat Taglieri Building in Asmara
The Fiat Tagliero building stands on a busy major intersection in Asmara. If you spend some time in the capital of Eritrea you will most likely pass it at some point or other.
Old colonial petrol stations in Dekemhare/ Eritrea
During our 12-day trip to Eritrea we did a daytrip to the small town of Dekemhare, 40 km south of Asmara. The Italians wanted to develop Dekemhare into an industrial centre in Eritrea and remodelled bigger parts of the town. Similar to Asmara they built new public buildings, cinemas and sports facilities, although on a more moderate scale.
As there was not much information available about Dekemhare, we just strolled through the broad streets of the sleepy little town. And we found another modernist petrol station.
Socialist Modernism Petrol Stations in Ljubljana/ Slovenia
When we visited Ljubljana last year, we were excited to find out that there are some interesting petrol stations, too. The monopolist "Petrol" company built these petrol stations between 1950 and 1970 when Slovenia belonged to the communist Yugoslavian state. Back then modernist petrol stations were part of the communist propaganda, portraying the country as ambitious and future-oriented.
Altogether there are apparently four petrol stations left from this era, some of them still working. However, we visited only two of them.
Particularly fun to visit was the one the famous Slovenian architect Milan Mihelič built in 1972. It features a free-standing concrete roof with a red-and-white pattern. Only one thick central pillar supports the whole roof like a mushroom.
Directly opposite this spectacular masterpiece we found another one of the Soviet-era petrol stations. This one dates from 1970. It was constructed by Edvard Ravnikar, another famous Slovenian architect. Three interconnected canopies stretch out over nearly 60 m. And what's more, it is still a working petrol station.
Where are the iconic petrol stations in Ljubljana?
The modernist petrol stations in Ljubljana are within walking distance from the main station. Tivolska Street 46 and 43.
More petrol stations to explore in the future
Some more ideas where to look for iconic petrol stations:
Batumi petrol station in Georgia
NP petrol station near Madrid, Spain
Rest Area Niemanharju, Finland
Pops Arcadia at Route 66, USA
Did you come across interesting petrol stations during your travels or at home? What is your opinion about such iconic petrol stations? Are they worth a detour? Let us know in the comments!
Never miss a new post! Get notifications about new posts straight into your inbox!
Save these ideas for later! Use the image below for pinterest: