On numerous trips combined we have spent around eight months travelling in Egypt. And we love everything in Egypt (or almost everything): The history, the sightseeing, the landscapes, the weather, the people, and the food. Finding tasty vegetarian food in Egypt is really easy. Since traditionally many people couldn't afford meat all the time, many of the staple dishes in Egypt are vegetarian anyway.
This travel blog post is about our favourite vegetarian food options in Egypt. Many of them are vegan as well!
Kushari – a vegetarian staple in Egypt and a national dish
Kushari is a ubiquitous, cheap, and filling dish consisting of small noodles, rice, and lentils. You get a separate bowl of tomato sauce to go with it, and fried crispy onions as toppings. Mix the tomato sauce with some vinegar (from the vinegar bottle on the table) and some freshly squeezed lemon juice. If you want your Kushari spicier, add some hot sauce, too. And then you pour the tomato sauce over the lentil-noodle-rice mix. Most kushari restaurants serve nothing but kushari in various portion sizes, from small to extra-triple large. Usually the second smallest portion is enough for us. Vegetarian travellers to Egypt will most likely eat kushari several times a week!
Falafel or ta'amiya – balls of bliss
The deep-fried crispy balls consist of ground chick peas and parsley. You probably know them as falafel from Turkish and Arab restaurants, but in most of Egypt they go by the name of Ta'amiya. In the morning small street food stalls pop up in in the cities, selling foul (see below) and Ta'amiya. The cheapest are the sandwiches – Egyptian bread filled with some Ta'amiya balls and/or foul for around 50 cents.
Foul – mashed beans for breakfast
Foul is a typical Egyptian breakfast dish. The beans have been cooking for hours before they get served, so they are quite a soft mush. You can eat the foul in sandwiches or with a spoon from a plate. A speciality in Alexandria is Foul Iskandria – these are beans with lots of greens, tomatoes, tahini, and onions. The best foul in Alexandria is served by Mohammed Ahmed Foul.
Meze – these antipasti make a meal for vegetarian travellers to Egypt
As in many Arab countries, a proper meal may start with a great variety of small dishes for everyone to share. Most are cold, but some can be warm as well. The most popular meze include fresh bread and hummus, a chick pea puree with lemon and sesame. A similar dip with sesame is baba ganoug, which is made from aubergines. Sambusa are a finger food similar to Indian samosa: triangles of dough filled with some vegetables or cheese. And mashi are vegetables such as peppers or zucchini with a stuffing of somewhat spicy rice. Pickled aubergines (betengan mikhalil) are surprisingly soft and sumptuous. Of course, meze can also include meat dishes, but often enough there are enough vegetarian meze on the menu to combine them to a full meal.
Tagen – piping hot from the oven
Tagen is a casserole dish particularly popular in Upper Egypt and Nubia. The cooking style is similar to the Moroccan Tagine – the big clay pots with conical lids. Egyptian Tagen often combines meat, some vegetables, and tomatoes. But usually there is a meat-free version for vegetarian travellers as well. The tagen may contain okra which gives the dish a somewhat slimy texture. If you order a vegetarian tagen in Upper Egypt, it usually comes with soup, rice and salad and will be more than enough for most people.
Mokokheya – green, slimy and yummy
There is another popular vegetable dish in Egypt with a slimy consistency – and with an added bitterness. The vegetable is called Molokheya. It is a green leafy vegetable that we don't know from Europe. And while it may be an acquired taste it is also the kind of food Egyptians miss sadly when abroad … The leaves are finely chopped and cooked with onions and some garlic in a meat broth. So while there is usually no recognizable meat in the dish – it is not strictly vegetarian most of the time.
Fateer – just another flatbread or a giant croissant?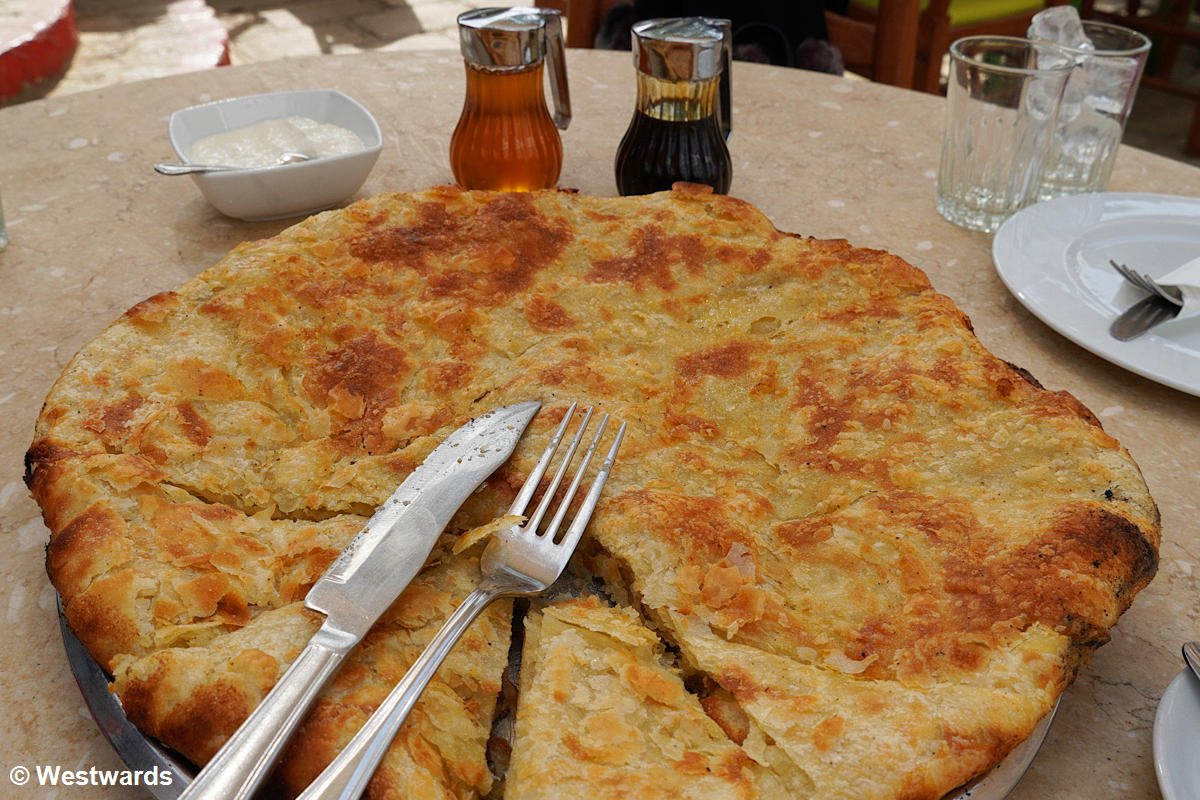 On first glance, it looks like a standard flat bread. But fateer is much richer than the normal Egyptian bread. This flaky layered pastry is made from wheat dough spread with butter. The bakers then fold and stretch the dough a number of times to make a puff pastry – just like croissants. But a whole fateer is decidedly larger! Some cafés serve it with additional cream, nuts, and/or honey, or they add cheese and vegetables for a savoury version. These kinds of fateer make for a complete meal for hungry vegetarian travellers to Egypt. The fast food chain GAD from Alexandria offers particularly rich fateer varieties. And at Andrea Mariouteya in Giza we had probably the best Fateer ever in Egypt. They serve it only on weekends and you need at least four people to share it.
Vegetarian fast food from West and East
Like in most countries, Western fast food such as pizza or crepes (sweet and savoury) is also available in Egyptian eateries. Usually, vegetarian options are also available. However, the more popular burger and kebab stalls don't offer much vegetarian food, except for French fries. But there are even smaller stalls on the street at night which can be of interest. Try, for instance, grilled corn on the cob. Especially in the winter months small stalls sell hot sweet potatoes straight from a movable charcoal oven.
Sweets and desserts – stuff from the Arabian nights
Fruits are luxuriously fresh and tasty in Egypt. Be it fresh dates or bananas, the fruits are better than we know them from Europe. And they always make for a great snack or dessert. We also love the strawberries which are easily available in winter. Freshly squeezed fruit juices are sold at small street stalls and are very cheap, too.
But the great draw for anyone with a sweet tooth are the Arabian sweets such as kunafa and baklava. Many of these traditional Arabian sweets consist of nuts and pistachios, honey or sugar syrup, and sometimes cream. On the other hand, Egyptian bakeries are also good at traditional Western cakes. Among our long-time favourites are the El Abd Bakery in Cairo and the traditional Café Delices in Alexandria. Perennial favourites are silky Red Velvet and gorgeous Buttercream Cakes.
Moreover, the big confectioners vie with each other each Ramadan to create the most mouth-watering fusion cakes: Kunafa cheesecake, anyone? Or Basboussa tartlets with berries? Pistachio Poundcakes?
Coffee – small, black, spicy
Not really vegetarian food, but after so much tasty vegetarian food in Egypt you will certainly yearn for some good coffee. And you will get it! Traditionally, coffee in Egypt is of the dark type, served in small cups, Turkish style. Often, some cardamom is mixed into the coffee at the stage of roasting. The best coffee roasters are in in Alexandria where the coffee is always fresh and aromatic.
A highlight to experience in Upper Egypt is a Nubian coffee ceremony, where you can watch the whole process of roasting and brewing. Similar to the Ethiopian coffee ceremony, there is some incense burning on the low table. The beans are roasted with spices over a coal fire, then ground by hand. The coffee then boils for a while in an earthenware pot before the host pours them into very small cups for you. In addition to the coffee you will get some fresh popcorn.
Did you try vegetarian food in Egypt? What did you have? And did you like it?
NB: We paid for and ate all the dishes by ourselves. And we did not get any sponsoring or money for writing this post.
Never miss a new post! Get notifications about new posts straight into your inbox!
Do pin this post for later! Use the image below: